CNLP 300: NT Wright on Why Atheism Doesn't Need to Destroy Your Faith, on Women in Ministry, and How the Church is Getting Heaven Wrong
NT Wright is a scholar, priest and prolific author of over 80 books. In this wide-ranging interview, Tom Wright talks about how atheism doesn't need to destroy your faith, why he still believes the Gospel, and how his views on some things—including women in ministry—have changed.
Tom also discusses podcasting, why he's embraced online courses, and how the Enlightenment is still getting in the way of sound theology.
Welcome to Episode 300 of the podcast. Listen and access the show notes below or search for the Carey Nieuwhof Leadership Podcast on Apple Podcasts or wherever you get your podcasts and listen for free.
Guest Links
Twitter | Facebook | NT Wright Online | The New Testament in Its World
Episode Links
Remodel Health recognizes the intrinsic value of keeping healthcare costs sustainable without sacrificing the level of care to your faith-based organization. Learn more about their technology-based, innovative solutions by visiting this special link here, and download their church buyer's guide today for FREE.
Are you interested in growing your church in 2020? Our partners, Pro Media Fire, have a special offer for listeners of The Carey Nieuwhof Leadership Podcast. They're looking for 20 churches that are interested, in receiving a custom plan to help ignite growth with strategies that include Facebook, Instagram, YouTube, new church website, custom graphics, and videos. They're accepting applications at ProMediaFire.com/2020. Check it out.
What if, in 40 days, you could grow your small groups in your church by 40%? Based on Pastor Zach Zehnder's book, The Red Letter Challenge is a 40-day turnkey church campaign that centers around making more effective disciples of Jesus. Go to RedLetterChallenge.com/Carey to find church packages ready to go for you.
NT Wright Online Course: Paul's Letter to Philemon
Ask NT Wright Anything: What Do You Think of Jordan Peterson
CNLP 297: Gordon MacDonald Shares 8 Decades of Wisdom and Life Lessons, Father Wounds, the Dangers of Drivenness, Counselling a U.S. President, and What Leaders Struggle with Between Ages 32-42 and at Age 48 and Age 62
Scripture Union Superkids Summer Outreach
The Aims of Jesus by NT Wright
The Decline and Fall of the Roman Empire by Edward Gibbon
Seven Types of Atheism by John Gray
Jesus and the Victory of God by NT Wright
Surprised by Hope by NT Wright
The Life and Times of Jesus the Messiah by Alfred Edersheim
Insights from NT
1. How are most Western Christians looking at the Bible incorrectly?
In the Bible, you have two spheres which we loosely call heaven and earth, which are God's world and our world. In the Bible, these go together. They are meant to intersect, to interlock, and ultimately be married once and for all and forever. That's the great exciting thing about biblical theology which sadly many, many Christians in our contemporary world have never begun to get their heads around.
Tom thinks that the whole biblical story works the opposite of how most modern Western Christians think. Instead of us needing to find our way upstairs to heaven, the whole point is God wants to come and dwell with his people, as we see in the last scene of the Bible where we see the New Jerusalem coming down from heaven to earth so that the dwelling of God is with his human creatures.
2. How much Bible studying should a regular believer engage?
Tom says that his level of recommended study for ordinary Christians is more simple than you might think. You should study something about how there is a God who made the world who loves the world, who made you and loves you, and through the death and resurrection of Jesus, he is reaching out and grasping you now, and saying, "Here is genuine life, and you can share it right now and forever."
For many people, that will do for a year, for five years maybe, but some people almost at once discover that there's this book called the Bible. When they discover the Bible they have all kinds of questions like: Who are the Pharisees? Who are the Canaanites? Who are the Samaritans? And why did they think this? And what did they mean by the Kingdom of God? When these questions come, this is where deeper study and conversations with clergy need to happen.
Quotes from Episode 300
The best academics are the people who can explain something really easily. @cnieuwhof Click To Tweet
Historically, it's very, very difficult to explain why Christianity began and why it took the shape it did without the resurrection of Jesus at the middle of it. @profntwright Click To Tweet
Look at the historical roots of atheism, see which cultural narratives you're buying into. @profntwright Click To Tweet
In John 16, the spirit is given to hold the world to account. How does the spirit hold the world to account? Through the witness of the church. @profntwright Click To Tweet
What the Spirit is going to do, the Spirit wants to do through Jesus' followers. @profntwright Click To Tweet
God's purpose from the beginning was to sum up, in the Messiah, all things in heaven and on earth. @profntwright Click To Tweet
Looking for a key quote? More of a reader?
Read or download a free PDF transcript of this episode here.
Select episodes of this podcast are now on YouTube. Our new YouTube Channel gives you a chance to watch some episodes, not just listen. We'll add select episodes to YouTube as time goes on.
Help Your Church Grow Without Compromising Biblical Integrity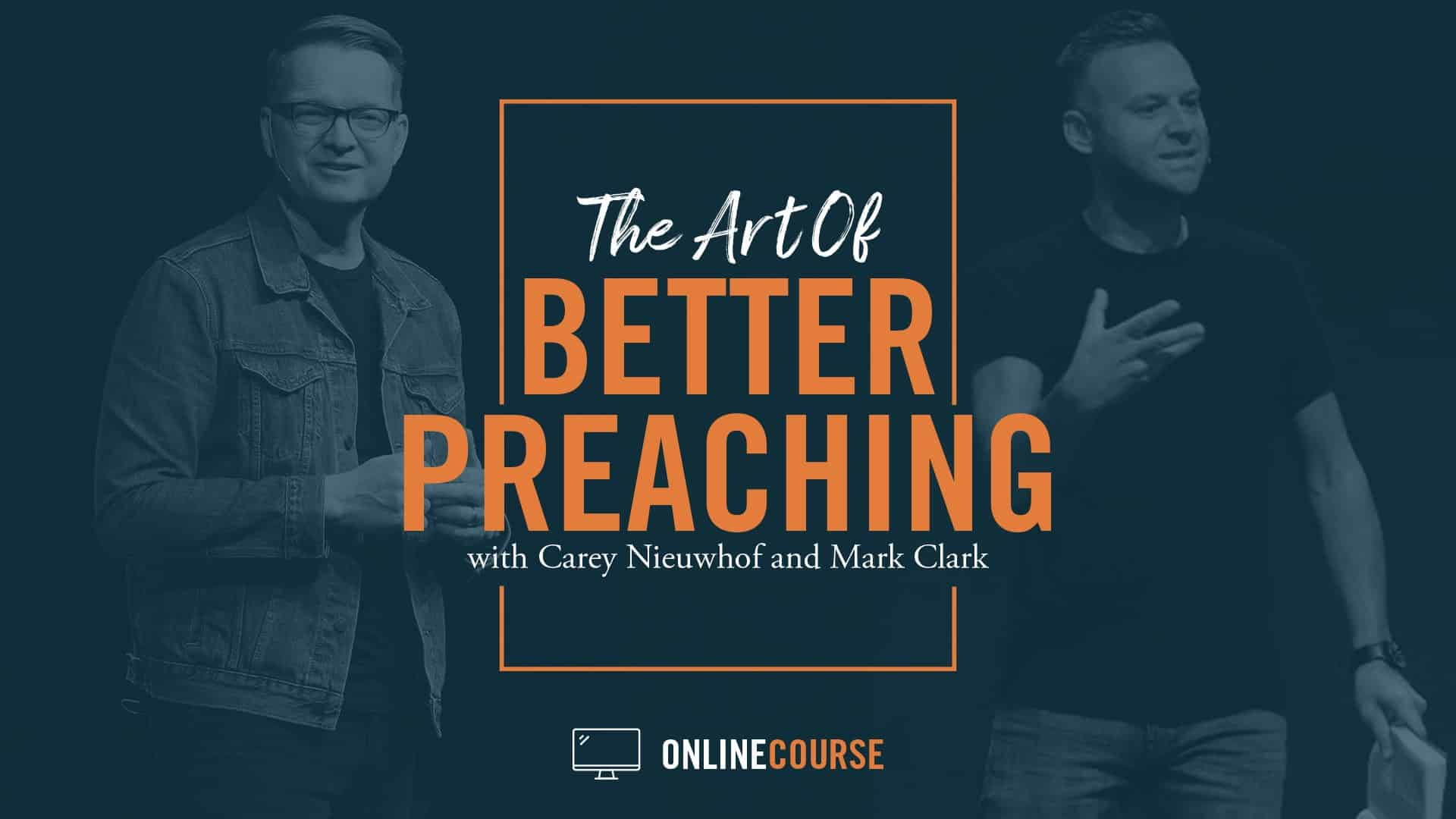 Ready to start preaching better sermons and reach the unchurched without selling out? Then it's time to start using the right tips, lessons, and strategies to communicating better.
The Art of Better Preaching Course is a 12 session video training with a comprehensive, interactive workbook that will help you create, write, and deliver better sermons. The course contains the lessons Mark Clark (lead pastor of  Village Church, a growing mega-church in post-Christian Vancouver) and I have learned, taught, and used over decades of being professional communicators.
This is the complete course you need to start preaching better sermons, including:
7 preaching myths it's time to bust forever
The 5 keys to preaching sermons to unchurched people (that will keep them coming back)
How to discover the power in the text (and use it to drive your sermon)
The specific characteristics of sermons that reach people in today's world
Why you need to ditch your sermon notes (and how to do it far more easily than you think.)
How to keep your heart and mind fresh over the long run
And far more! Plus you get an interactive workbook and some bonus resources that will help you write amazing messages week after week.
In The Art of Better Preaching, Mark and I share everything we've learned about communicating in a way that will help your church grow without compromising biblical integrity. We cover detailed training on everything from interacting with the biblical text to delivering a talk without using notes, to writing killer bottom lines that people will remember for years.
Subscribed Yet? 
Subscribe for free and never miss out on wisdom from world-class leaders like Brian Houston, Andy Stanley, Craig Groeschel, Nancy Duarte, Henry Cloud, Patrick Lencioni, Francis Chan, Ann Voskamp, Erwin McManus and many others.
Subscribe using your favorite podcast app via
Spread the Word. Leave a Rating and Review
Hopefully, this episode has helped you lead like never before. That's my goal. If you appreciated it, could you share the love?
The best way to do that is to rate the podcast on Apple Podcasts and leave us a brief review! You can do the same on Stitcher and on TuneIn as well.
Your ratings and reviews help us place the podcast in front of new leaders and listeners. Your feedback also lets me know how I can better serve you.
Thank you for being so awesome.
Next Episode: Albert Tate
Albert Tate is one of the funniest conference speakers and preachers around today. In this episode, Albert breaks down how he finds comedic moments and how to deliver them. In addition, Albert talks candidly about his struggle with porn, deep accountability, sex and how to handle the pressures of leadership.
Subscribe for free now and you won't miss Episode 301.