Lead with the answers and clarity that fuel your church for growth. Starting today.
"Our attendance has nearly doubled, we've hired three additional staff, and the weight is being lifted from my shoulders." – Dave Allman, New Life Church
JOIN THE ART OF LEADERSHIP ACADEMY
You have a unique calling on your life and your church. So, why does it feel like…
You're a few bad days away from burnout.
Your ministry is scattered and people aren't aligned.
No one else is as passionate as you are.
You aren't making the impact you feel—and know—you're called to make.
You have a unique calling on your life and your church. So, why does it feel like…
You're a few bad days away from burnout.
Your ministry is scattered and people aren't aligned.
No one else is as passionate as you are.
You aren't making the impact you feel—and know—you're called to make.
We've all been there…
It's Monday morning, which means that it's time to debrief from yesterday's services. On the surface, everything went fine. It was a typical Sunday morning.
But typical is the issue.
It just doesn't feel like your mission is moving forward anymore, at least not as quickly as you had hoped.
As you look to the week ahead, the weight of responsibility feels overwhelming. You know all too well the stress that comes with the role, but one else really gets it—not your staff, not your volunteers, not your board, not even your spouse.
Yet, you have to show up with the passion to ignite their spirits and create meaningful change. Even when attendance isn't where you want it, engagement seems to be waning, and the challenges of ministry leadership are starting to take their toll.
Every day. Every week. Every year, the impact you know your ministry is capable of is being overshadowed.
"There's too much on my plate to lead effectively."
"Our ministry feels scattered and people aren't committed."
"Is my preaching getting stale? People don't seem to respond anymore."
"Why doesn't anyone care as much as I do?"
"Other churches are growing… why aren't we?"
Years ago, when you started ministry with a fiery passion, did you think it would turn into this?

Now picture a different kind of Monday morning. You're still riding the high from yesterday's services and you can't help but smile as you reflect on the impact your ministry is making.
The energy and enthusiasm of your congregation were palpable, and it's clear that your team's hard work is reaching your community.
You know because your services were overflowing on Sunday.
As you look to the week ahead, you feel a sense of purpose and excitement.
This week, you and your team get to figure out what to do with all these people.
Is it time to add a new service?
Or overflow?
Or can we finally open that next campus?
What's the biggest difference between growth and stagnant attendance?
Is it you? No. ❌
Is it your staff and volunteers? Not entirely. ❌
Is it the reality of today's culture? Not exactly. ❌
Nope. Often the difference is simply a better strategy.
The truth is:
Your leadership and your church have a unique call. In some circles, talking strategy is seen as 'unspiritual' but you know that the best prayer also results in action.
Sometimes in the church, it's easy to love God with all your heart, soul, and strength but forget about loving and serving God with your mind.
Effective leaders know that new thinking and new approaches lead to reaching new people.
Growing churches have a call they stay faithful to and they also invest the time and energy to develop the skills, strategies, and systems that position their church for growth. Churches that reach thousands of people have invested the time over many years to test, tweak, learn, and fail to get where they are.
What if you could access those insights, strategies, and lessons, too?
INTRODUCING
Lead with the answers and clarity that fuel your
church for growth. Starting TODAY.
What if you could…
Write sermons that people remember and quote back to you years after you've preached them
Unleash the potential of a staff and volunteer core that's passionate about the mission you've set out on
Captivate the unchurched people in your community and create an endless stream of new guests attending your church
Grow your church without burning out in the process
Secure an abundance of leaders that fuel your ministry for years to come
Inspire members to give generously… without feeling awkward about it
Become the catalyst your team and congregation need to leave a lasting impact on your community
…even if you don't have the multi-million dollar budget or endless resources of a megachurch.
"Our attendance has nearly doubled, we've hired three additional staff, and the weight is being lifted from my shoulders."
I want to introduce you to Dave Allman, the Lead Pastor at New Life Church in Ohio and member of The Art of Leadership Academy.
Barrier: 400 in Attendance
When Dave joined in March 2022, his church was growing, but the 400 attendance mark seemed to be a barrier they just couldn't break through.
When you're leading into uncharted waters, it's difficult to even identify what's holding you back.
As a result, many leaders freeze to try and preserve what you've already built. (That's a mistake for many reasons… which I'll save for another day.)
But that isn't Dave's vision. His church, New Life, exists to be a church that is filled with pure worship, explosive evangelism, passionate ministry, friendly fellowship, and impactful discipleship.
Cause: Understaffed (and a Volunteer System that Needed a Refresh)
After joining The Art of Leadership Academy, Dave dove head-first into a few our programs, joined the Live Coaching Calls, and engaged the community regularly (and still does to this day).
During one of our calls, we were discussing staffing (and budgets).
It came to light that Dave's church was spending significantly LESS on staffing than a typical church does (~35%).
Ding. Ding. Ding.
Understaffing is just as big a problem as over-staffing. Way too much was riding on Dave, and his team wasn't large enough to handle the influx of people they experienced.
On top of that, after looking at how other churches in the Academy recruit and retain volunteers, he also thought it might be time to revisit the system they use.
The surprise? He didn't need to change everything. His preaching was fine. The worship team was great.
It was just a few (until then) hidden barriers that held him and New Life back.
Result: Doubling Attendance, Debt-Free by the End of This Year and, "The Feeling of Being Overwhelmed is Lifting…"
Sometimes, a few key changes can make all the difference.
We asked Dave how things are looking now, and I think it comes best in his own words:
"Our church has grown spiritually, numerically, and financially. We identified that we were understaffed, and our payroll was far below the standard budget.
Since then, our church attendance has nearly doubled in size; we hired two more full-time and one more part-time staff. We have raised over two million dollars and will be debt-free on our property at the end of this year.
The feeling of being overwhelmed is lifting from my shoulders as we have expanded our team."
The Best Part?
God has used Dave, his team, and the entire congregation at New Life, to reach over 450 MORE people who are now exploring and growing in their faith.
They went from 400 to 850+ regular attendees. Next up? 1,000.
Step-by-step training that leads you through every aspect of a growing church.
No matter your current attendance. No matter your denomination.
It's comprehensive, detailed, and effective—everything those other resources aren't. You won't be left thinking, "This all sounds great… but what do I do with it?"
And better yet, it speeds up the process. These are all tried and tested in the real world with proven and repeatable results.
"This has been a breath of fresh air. I was overworked and overwhelmed, and our staff was stuck maintaining with the mission hung on the wall. Since joining and using the program, we've heard so many encouraging insights that have helped us move forward on mission with hope and invite people to join us.

I would encourage anyone in leadership, church or otherwise, to jump in and engage. That's the key! There are a ton of resources today, but the more you engage the more you grow!"

Josiah Petermann
Explore the training programs you'll get instant access to.


Everything

is included in your membership.
Slide 1
THE ART OF BUILDING A GENEROUS CONGREGATION
Increase Giving and Fully Fund Your Mission—Regardless of Where You're at Now.
Increase giving, create a culture of generosity, and build financial margin at your church… without the stress and awkwardness.
In this training program, you'll get an Annual Generosity Plan and step-by-step strategy to develop donors, increase giving, help your congregation flourish financially, and feel confident talking about money and giving.
3 Modules with 35 Value-Packed and To-the-Point Video Lessons. Plus, Super Practical Guides, Done-for-You Resources, Tools, and Application Steps.

Module 1: Building the Foundations of a Generous Church
In this module, you'll see instant results in shaping how you and your church talk about money. Learn why you need to talk about money, when to talk about it, and how to talk about it so people get excited about money and generosity conversations.

You'll also learn how to break some of the strongholds that are holding your church back—overcoming a scarcity mindset, getting cheapskates out of leadership, and how to think about investments versus expenses.

Module 2: Donor Development and the Art of Asking for Money
In this module, you'll learn why the pastor needs full disclosure, precisely what to do with the data (including how to develop your own donor development plan), and how to do it with integrity.

You'll also learn how to ask for money—including word-for-word templates for all online and in-person channels—and, more importantly, how NOT to ask for money.
Module 3: Automating Generosity and Thanking Donors
Donor fatigue is a real issue. Hop off the treadmill of constant asks and learn how to create a culture of everyday generosity without sounding repetitive and wearing people down.

This module carves a step-by-step plan for building a culture of generosity, the move to digital giving, sending giving updates, and a report every senior pastor needs to get.

Bonuses:
Annual Generosity Planner
Church Giving Potential Calculator
Email & SMS Templates
Crafting Sunday Generosity Moments
Video Scripts
Done-For-You Sermon Series
Rapid Fire Q&A w/ Carey Nieuwhof
INCREASE GIVING | CREATE A CULTURE OF GENEROSITY | FUND YOUR MISSION
Your Instructor: Carey Nieuwhof
Slide 1
Preach More Engaging, Relevant and Memorable Sermons. Every Single Week.
Learn how to write and preach more engaging, relevant, and memorable sermons that keep unchurched people coming back and inspire life transformation in members. From preparation to delivery, you'll get a step-by-step method that aligns with your unique call, gifting, and busy schedule.
Week after week, you'll step up on Sunday morning confident that you're delivering a message that connects with both people exploring their faith and devout members.
10 Comprehensive Modules With Videos, Downloads, and a Course Application Workbook.

Module 1: What is Preaching in Today's Culture?
Module 2: Preaching to the Unchurched
Module 3: The How of Preaching
Module 4: Cultivate Growth and Evangelize Through Preaching
Module 5: Finding Power in the Text
Module 6: Creating a Killer Bottom Line
Module 7: Becoming the Best Preacher You Can Be
Module 8: How to Deliver a Talk Without Using Notes
Module 9: Keep Your Heart and Head Fresh Over the Long Run
Module 10: The Spiritual Dimension of Preaching

Bonuses:

Q&A with Carey and Mark
Carey's "Game-Film"
Preaching Cheat Sheet
Bottom Line Cheat Sheet
50 Killer Bottom Lines
How to Get Direct Sermon Feedback
5 Steps to Ditch Your Notes
PREACH MORE ENGAGING, RELEVANT, AND MEMORABLE SERMONS | MASTER A BETTER WRITING PROCESS
MOBILIZE PEOPLE TO ACT WITH FAITH AND COURAGE | DEEPEN YOUR CONNECTION WITH THE TEXT
Your Instructors: Carey Nieuwhof and Mark Clark
Slide 1
Replace Chronic Exhaustion and Overwhelm With Deep Productivity.

If your busy season has no ending, it's not a season. It's your life.
The strategies in this training will get your time, energy, and priorities working for you, not against you. It's been used by 50,000+ leaders to battle burnout and find an extra 10 productive hours each week.
This program has helped thousands of leaders grow their church, start a new venture, advance their career, take meaningful time off, and get more done in far less time.
14 Comprehensive Modules With Videos, Downloads, Templates, Assessments, and a Course Application Workbook.

Module 1: This Much Stress is Not Okay
Module 2 Leave the Stress Spiral. Live the Thrive Cycle.
Module 3: Focus Your Time
Module 4: Leverage Your Energy
Module 5: Realize Your Priorities
Module 6: The Big Sync
Module 7: The Future You (Thrive On)
Module 8: Avoid The Grey Zone
Module 9: Make Better Decisions
Module 10: Optimize Your Workflow
Module 11: Rethink (and Reschedule) Your Meetings
Module 12: Master Inbox Zero
Module 13: Resist Responding to Every Emergency
Module 14: Craft (and Take) Meaningful Time Off
Bonuses:

Burnout Assessment
Dreams and Priorities Planner
Free Up Your Calendar (Template)
How to Say "No" Nicely
Optimal Work Cheat Sheet


BATTLE BACK AGAINST BURNOUT & STRESS | ESCAPE THE TRAP OF ENDLESS TO-DO'S
GET YOUR TIME, ENERGY, AND PRIORITIES WORKING IN YOUR FAVOR | ACCOMPLISH YOUR GOALS
Your Instructor: Carey Nieuwhof
Slide 1
THE ART OF TEAM LEADERSHIP
Unleash the Potential of Your Staff and Volunteer Core.
Are you ready to put an end to mediocrity from your staff? Volunteers that don't really care? The toxic elements that people bring into your church's culture?
In this training program, you'll get strategies, insights, and practical guides to lead a healthy, high-impact and thriving team. It's time to stop doing ministry alone.
9 Comprehensive Modules With Videos, Downloads, and a Course Application Workbook.

Module 1: How Work is Changing
Module 2: Building Healthy Relationships with Your Team
Module 3: Aligning Your Team with Your Mission
Module 4: Shaping Your Culture with Your Values
Module 5: Dealing with Toxic People and Culture
Module 6: Becoming a Results Based Team
Module 7: Developing Your Workflow System
Module 8: Results Based Leadership Pro-Tips
Module 9: Navigating Flexible and Remote Teams

Bonuses:

Word-for-Word Scripts to Coach an Underperforming Team Member
6 Best Practices to Engage Better Leaders
10 Markers of a Healthy Workplace Culture
Guidelines for Remote Work
Cheat Sheet: Creating Value Statements
5 Questions Every Effective Leader Asks
ATTRACT TALENT | DEVELOP LEADERS | ALIGN YOUR TEAM | THRIVE CULTURALLY
Your Instructor: Carey Nieuwhof
Slide 1
The Pivotal Decisions and Conversations that Lead to Growth and Reaching Your Community.
The #1 barrier to church growth isn't spiritual or culture: it's us. People.
By the end of this training program:
– You'll have had 7 pivotal conversations that align your staff and elders for growth—including clarity on the biggest single obstacle holding your church back and a growth plan for the next 12 months.
– You'll know exactly which of the 10 common growth barriers your church is going to face in the coming years and have plans in place to grow past them before you hit a sticking point.
17 Comprehensive Modules With Videos, a Course Application Workbook, Downloads, Templates, and More.
Part 1: Breaking Growth Barriers

Module 1: Structure Bigger to Grow Bigger
Module 2 The Pastor Who Does Everything
Module 3: Scaling Pastoral Care
Module 4: Finding the Right Leaders
Module 5: Moving From Teams That Do to Teams That Lead
Module 6: Aligning Your Church
Module 7: A New Way to Make Decisions
Module 8: Stop Making Excuses
Module 9: Breaking 400, 800 and 1000 Bonus Masterclass
Part 2: Lasting Impact

Module 1: Talking to Your Team
Module 2 Faster Growth
Module 3: Declining Attendance
Module 4: Creating Healthy Leadership
Module 5:Recruiting High-Capacity Leaders
Module 6: Engaging Young Adults
Module 7: Understanding Cultural Trends
Module 8: Leading Change
7 PIVOTAL CONVERSATIONS THAT LEAD TO CHURCH GROWTH | 10 BARRIERS THAT STAND IN THE WAY OF REACHING MORE PEOPLE
CREATE A GROWTH PLAN FOR THE NEXT 12-MONTHS | BREAK THE 200, 400, 800, AND 1000 ATTENDANCE BARRIERS
Your Instructor: Carey Nieuwhof
Slide 1
Transform the Invitation and Outreach Culture at Your Church.
Most people visit your church because someone invited them. But there's also your website, social media, advertisements, community events, support programs, and worship nights… just to name a few.
Bottom line? Outreach is complicated, but not always effective.
Get a series of practical and actionable ways to expand the number of people your church reaches, attract more first-time visitors, and create meaningful connections with people exploring faith.
9 Comprehensive Modules With Videos, Downloads, and a Course Application Workbook.

Module 1: Introduction
Module 2: Profile of the Christian West
Module 3: The Church Scattered and Mobilized
Module 4: The Church Gathered (Part 1)
Module 5: The Church Gathered (Part 2)
Module 6: Why Engagement is the New Church Attendance
Module 7: Creating Your Digital Engagement Strategy
Module 8: Widening Your Front Door
Module 9: Best Practices for First-Time In-Person Guests
Bonuses:

The Church Outreach Assessment
The Art of Reaching e-Book
Q&A with Carey and Mark
Engaging First-Time Guests with Lead Magnets
Ephesians 4:11-12 in the Post-Christian West
UNDERSTAND UNCHURCHED PEOPLE IN YOUR COMMUNITY | DEVELOP IMPACTFUL CONTENT & PROGRAMMING
CREATE A CULTURE OF INVITATION & EVANGELISM | MASTER THE FIRST TIME GUEST AND ONLINE EXPERIENCE
Your Instructors: Carey Nieuwhof and Mark Clark
Slide 1
THE ART OF LEADING CHANGE
Change is Inevitable. Irrelevance Isn't.

As leaders, we strive for change. But what happens when the people you're leading can't agree on the path forward? Or simply don't want to change at all? Leading change doesn't have to be divisive or stressful.
This training is a complete framework for leading change at your church. You'll learn how to align your staff, board, and congregation on the change that your church needs to make, communicate it to each group, and gracefully navigate those who oppose it.
7 Comprehensive Modules With Videos, Downloads, and a Course Application Workbook.

Module 1: Frozen, Hesitant, and Agile Leadership
Module 2: The Speed of Change
Module 3: The 30-Day Pivot
Module 4: A Strategic Framework for Off-site Retreats
Module 5: How to Communicate Change
Module 6: Five Keys to Navigating Opposition to Change
Module 7: The Psychology of Change
Bonuses:

Checklist: The Essentials for Leading Change
Word-for-Word Scripts to Communicate Change
Delivering the Right Message to the Right People
Leadership Style Assessment
KNOW THE RIGHT CHANGES TO MAKE| ALIGN YOUR STAFF, BOARD, & CONGREGATION
COMMUNICATE CHANGE EFFECTIVELY | NAVIGATE THE OPPOSITION WITH GRACE
Your Instructor: Carey Nieuwhof
Slide 1
THE ART OF ONLINE INFLUENCE
Engage Your Audience Online, Inspire them to Take Action, and Get More People Excited to Join You.
Do you ever feel like what you do online simply gets ignored? That no one cares about your videos, podcasts, emails or socials? It's time to stop putting in all that effort without getting results.
This training program equips you with timeless principles that lead to audience growth, engagement, and influence. Your content can have a big impact—even when you don't have a big budget.
8 Comprehensive Modules With Videos, Downloads, and a Course Application Workbook.

Module 1: How Ordinary Leaders Can Become More Influential
Module 2: Five Early Decisions You Need to Make
Module 3: How to Create Content That Connects
Module 4: How to Hook Your Audience and Get Them to Take Action
Module 5: The Key to Writing Great Captions and Headlines
Module 6: Rented Space, Owned Space, and Digital Volcanoes
Module 7: The Ultimate Guide to Podcasting: I Share EVERYTHING that's Gotten My Podcast to 30 Million Downloads
Module 8: How to Stay Relevant When Everything Changes
Bonuses:

Content Calendar Template
Content Planning Worksheet
How to Land a Dream Guest (or Dream Connection)
LAY THE FOUNDATION FOR YOUR FUTURE | GENERATE ENDLESS IDEAS FOR CONTENT CREATION
CREATE CONTENT THAT GRABS ATTENTION AND INSPIRES ACTION | HOW TO STAY RELEVANT WHEN THING CHANGE
Your Instructor: Carey Nieuwhof
Slide 1
THE ART OF PASTORAL SUCCESSION
Create a Succession Plan and Secure the Future of Your Church.

What if your church had a plan in place for when it's time for the pastor to move on?
This training program equips your church with everything needed to create and execute a succession plan. It includes specific resources for the outgoing pastor, incoming pastor, and board members so that everyone is prepared for a seamless handoff of leadership.
9 Comprehensive Modules With Videos, Downloads, and a Course Application Workbook.

Module 1: Is A Transition Right For Us?
Module 2: Negotiating Your Salary
Module 3: Preparing Yourself For The Transition
Module 4: Preparing the Church
Module 5: Embracing Best Practices and Avoiding Potholes
Module 6: Leading A Staff You Didn't Hire
Module 7: Leading The Elder Board
Module 8: Leading Change
Module 9: Unhealthy Change Resistance

Q&A With Carey Nieuwhof and Sean Morgan
The Rules Carey Nieuwhof and Jeff Brodie Followed During Their Transition
DETERMINE THE RIGHT COURSE OF ACTION | THE INS-AND-OUTS OF PREPARING FOR CHURCH TRANSITION
CREATE A 100-DAY PRE AND POST-TRANSITION PLAN | SUCCESSFULLY NAVIGATE THE FIRST 5-YEARS AS A SUCCESSOR
Your Instructors: Carey Nieuwhof and Sean Morgan
Slide 1
Done-For-Your Leadership Development.

Leadership development is a top priority. So why does it rarely ever happen?
Get done-for-you leadership development for the staff and key volunteers in your church. Each training comes with an on-demand video, meeting agenda, and practical steps to put the teaching into action. A new leadership training is added to your library every month and you get complete access to the library of previously released trainings.
Use the plug-and-play video or teach the training yourself with a done-for-you meeting agenda, application guide, and slide deck. (Hey, maybe both? You decide!)
Training 1: How to Forge Unity Out of Division
Training 2: How to Cast a Compelling Vision
Training 3: A Better Way to Recruit and Retain Volunteers
Training 4: Improving Your Emotional Intelligence
Training 5: 7 Ways to Drive Engagement
Training 6: Breaking Organizational Growth Barriers
Training 7: Essential Skills for Leading in a Turbulent World
Training 8: How to Communicate Change
Training 9: Frozen, Hesitant, and Agile Leadership
Training 10: Why the Best Leaders Play Favorites
Training 11: 7 Keys to Finding and Generating Momentum
Training 12: Three Levels of Leadership Development
Training 13: Leading a Remote Team
Training 14: Knowing When It's Time to Leave (Or Fire Someone)
Training 15: How to Hook Your Audience and Get Them to Take Action
Training 16: How to Craft a Killer Message People Remember
Training 17: Leading a Remote Team
Training 18: How to Lead (and Unite) a Divided People
Training 19: How to Motivate People Without Paying Them More
Training 20: The Keys to Finding and Recruiting Great Leaders
Training 21: How to Lead With Vision When You Can't See Ahead
Training 22: Results-Based Leadership
Training 23: 6 Best Practices That Engage High Capacity Leaders
Training 24: How to Master the Art of the Clear No
Training 25: 5 Keys to Building High Trust Teams
Training 26: 5 Disruptive Future Leadership Trends
Training 27: How to Manage Your Energy to be More Productive
Training 28: Rethink (and Reschedule) Your Meetings
Training 29: Make Better Decisions
Training 30: How to Handle Toxic People
Training 31: How to Create Content That Connects
Training 32: How to Build Life-Giving Mentoring Friendships
Training 33: How to Create Great Online Content
Training 34: Developing a Digital Engagement Funnel
Training 35: How to Gain Momentum with Your Online Content
Training 36: 5 Groups That Impact How You Lead Change
Training 37: Agility is Greater Than Uncertainty
Training 38: Racial Reconciliation
Training 39: 5 Keys for Embracing Infrequent Customers or Attenders
Training 40: 12 Disruptive Church Trends to Watch in 2022
Training 41: Building Your Volunteer Core
Exclusive to Academy Members
Your Instructor: Carey Nieuwhof
We get it. No matter how comprehensive the training is,
you'll still have questions. That's why you'll also get…
Slide 1
Monthly Live Coaching Calls

There's power in putting great people in a room together. Live coaching calls with Carey Nieuwhof give you the chance to talk about what we're learning and work through it together.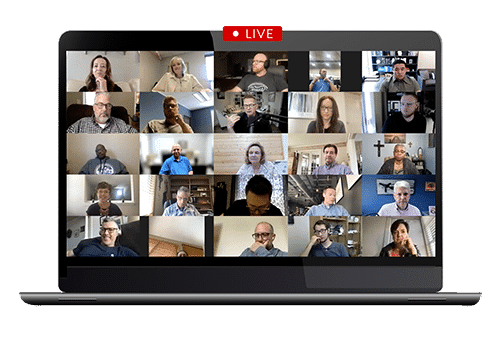 Exclusive to Academy Members
Slide 1
Online Community of Senior-Level Church Leaders

Leadership can be lonely. Join a community of 1,500+ senior-level church leaders who support you and your church.
When you have questions, when you're looking for guidance, or even if you just need some encouragement, we're here for you. Just post in the feed or send a DM!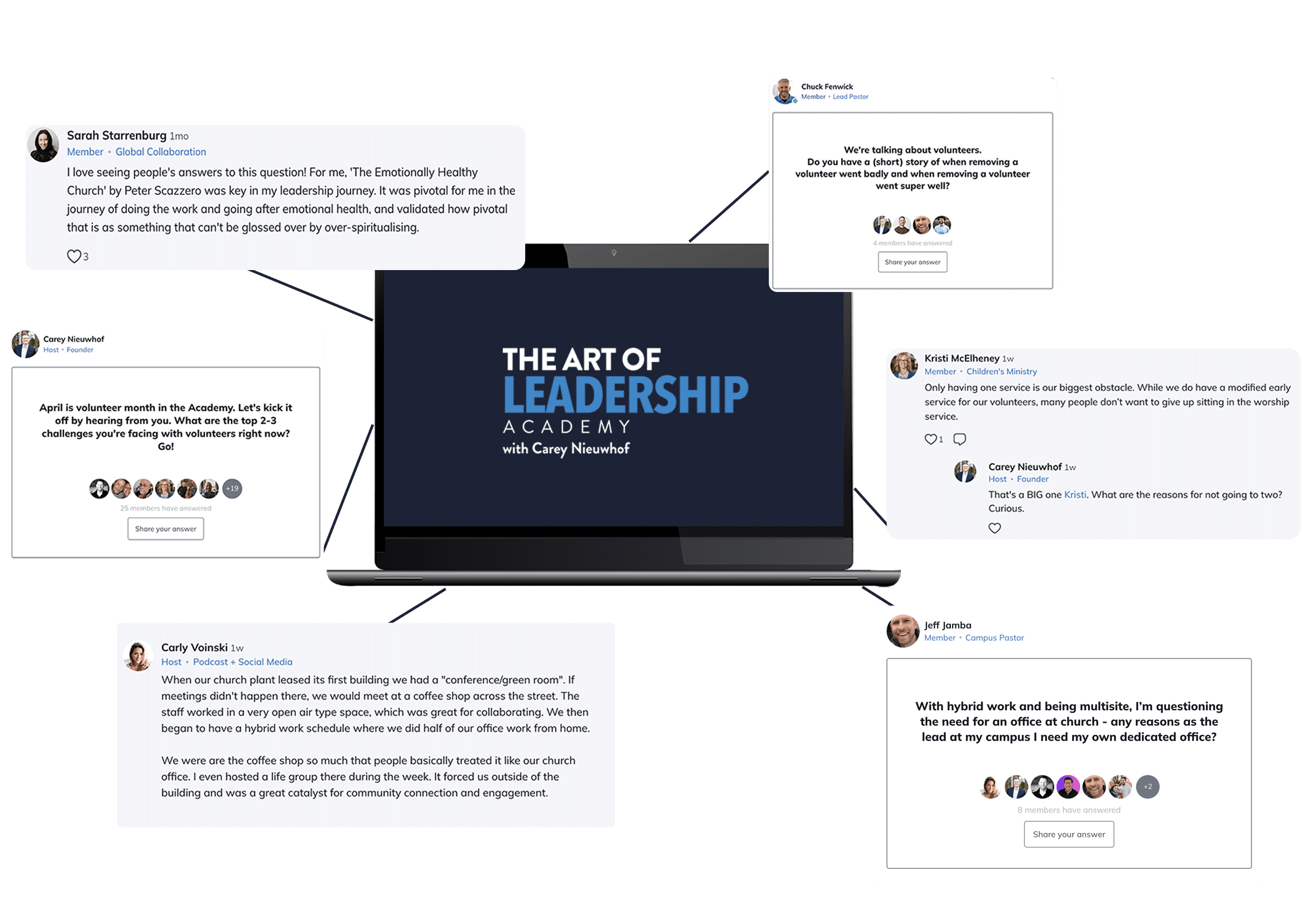 Exclusive to Academy Members
"There ARE other people out there asking the same questions and going through the same things I am. This makes me feel normal.
The thing I like the most is the clarity it brings to the complex problems we are all facing as pastors.
I love that I don't have to come up with my own content to invest into my team. I can just use what's provided here and in the monthly team training content.

No where else will you find such quality content for pastors and church leaders for such an affordable price. It's a must have for any pastor or church leader."
Jeremy Cole
I'M READY TO JOIN
Hi, I'm Carey Nieuwhof
You may know me as the author of At Your Best, Didn't See it Coming, and Lasting Impact, or as the host of my Leadership Podcast.
I started out in ministry leading 3 rural churches that had a COMBINED attendance of 40.
When I arrived to serve these churches, I quickly learned that everything needed to change.
The way the churches had done ministry meant they hadn't reached new people in decades. It had literally been 10 years since one of the churches last had a visitor.
I knew the task ahead of us was big, and I wanted to see growth.
But how? I'm not exaggerating when I say…
I had NO budget and NO team.
So, I started searching for help.
I went to our board and asked if I could attend a conference in the US (I'm from Canada). It was a BIG investment for our church at the time.
If I could just tap into the insights the conference leaders had to share, I knew that it could lead to real change in the impact we were having.
Well, we pulled together the money to go to the conference.
I attended every single session, met countless leaders, took pages and pages of notes, and came back with countless ideas to spark our next season of growth.
And it was. It was the catalyst I needed as a leader to break through the barriers we were facing.
Since then..
Those 3 rural churches have become a multi-site ministry that thousands (of previously unchurched people) attend regularly.
I've also had the privilege of interviewing and spending time with world-class church and business leaders—like Craig Groeschel, John Mark Comer, Nona Jones, Francis Chan, James Clear, Simon Sinek, Annie F. Downs, Seth Godin, and Rick Warren.
But I'll never forget feeling so isolated and uncertain before I attended that first conference. Especially compared to after…
That 'aha' moment when I realized that I wasn't being nearly bold enough in the changes I wanted to bring about.
The confidence I gained when I talked to another church leader who had made some of the exact changes I wanted to make.
The feeling I had when I was leaving. I knew that by God's grace, we could do this too.
Well, time has passed, and now we live in a world where information is constantly and instantly available to us. But not all of this is great information, and most leaders feel lonelier than ever.
That needs to change.
Breakthrough insights and strategies still aren't as apparent as they need to be—and I believe you deserve to lead with the same answers and clarity that world-class leaders do.
And that's why The Art of Leadership Academy exists. To give you access to those exact strategies, insights, lessons, and fast-tracks.
If you decide to join, send me a DM once you're in. I'd love to meet you!
"We have been able to implement some of the strategies and we're seeing sustained growth in numbers and energy as a result. What a blessing!!

It has helped me (solo pastor) stay energized and excited, which my people have caught. It's given me new ideas and fuelled my enthusiasm for growth. I'd recommend it to other church leaders to combat the burnout that comes with ministry today and shift to excitement and enthusiasm for the work God has given us."

Mia Crosswaithe
"I am absolutely thrilled and overflowing with gratitude for this incredible community that has been an invaluable guide in equipping me to lead my church through a replant!
The unwavering support and expert advice have been a game-changer for me as a new pastor.
I'm confidently charting a course toward a bright and successful future for my church!

Mike Willis
Next Live Coaching Call: December 6, 2023
Embracing Innovation to Unleash Creativity & Improve Quality
Feeling trapped in a repetitive cycle, stuck in the same old routines and strategies that no longer work for you?
By embracing innovation, you can unleash the power of creativity and continuous improvement to reach and serve your community effectively.
During December's Live Coaching Call with Carey Nieuwhof, you'll explore practical strategies and insights to empower your church to thrive and make a lasting impact.
No-Questions-Asked 30-Day Money-Back Guarantee
It matters to me that this makes an actual difference for you and your team…which is why I'm offering this guarantee.
If you're not satisfied with the quality of the content, or for any other reason whatsoever, you will get a full, immediate refund. Just shoot us an email at support@careynieuwhof.com.

Ready to lead with the answers and clarity that fuel your church for growth?
INDIVIDUAL PLAN
$447 / year (USD)
9 On-Demand Courses
Live Coaching Calls (Monthly)
Online Community of Senior-Level Church Leaders
Staff and Volunteer Development (Monthly)
Membership renews yearly in USD. You can cancel your membership at any time, but we think you'll love sticking around.
TEAM PLAN
$347 / team member / year (USD)
9 On-Demand Courses
Live Coaching Calls (Monthly)
Online Community of Senior-Level Church Leaders
Staff and Volunteer Development (Monthly)
Membership renews yearly in USD. You can cancel your membership at any time, but we think you'll love sticking around.

Questions that leaders like you asked before they joined.
I need approval to make this purchase. Do you have anything that can help with that?
What does my commitment look like? And how many hours will this take?
Many of the training programs take 3-6 hours to complete. You can choose to take the training at your own pace, with (or without) additional time to dive deeper into the material with your team.
In addition, monthly Live Coaching Calls are 60 minutes in length and packed with value. It's the condensed teachings you need to hear, without any fluff. If you can't make it live, a recording is uploaded following the live call.
Bottom line:
This training works if you do the work. 2-3 hours per month is plenty of time to make meaningful change, but we think you'll love it enough to invest more time than that.
What if I don't have a big budget for hiring staff?
You don't need a big budget to have a high-impact ministry. You'll get access to extensive resources that work both individually and as a team. Plus, access to resources that help you develop better leaders—both staff and volunteers.
How do I pay?
Click one of the buttons on this page to proceed to checkout. Once you're there, you can enter the required information and pay with credit card.
Is there an option to pay monthly?
Yes, if you'd prefer to pay for membership to The Art of Leadership Academy monthly, it is $54/month. You can sign up for a monthly plan by clicking the button below.
Do I have to join The Art of Leadership Academy to access the course?
No. You can purchase individual courses as well.
Some benefits, such as access to our Community, Coaching Calls, and Monthly Team Training, are exclusive to members.
What is the refund policy?
It means a lot to me that this material makes a difference in your ministry and in your leadership. With all my resources, I offer a no-questions-asked 30-day guarantee.
Just email us at support@careynieuwhof.com and we'll be happy to help.
"WOAH… this seems like A LOT. Am I too busy to use it all?"
We get it. You are BUSY.
We could just hand you a 15-minute crash course or a "Top Tips" blog post, instead. But if those types of resources make a meaningful difference in your ministry, you wouldn't be here, would you?
There are thousands of generic resources you'll find that simply don't move the needle.
And while you do get access to A LOT (this is made to be wildly comprehensive), it's broken down into specific skills and strategies that will move the needle where—and when—it matters most.
Want to…
Communicate a powerful mission to your congregation?
Recruit better volunteers?
Ditch your notes while preaching?
Delegate responsibilities to a staff member?
Free up 10 productive hours each week?
Get direct and meaningful sermon feedback?
Create a more effective assimilation process?
There's training for all of that (and more) that can be done and in action in less than 30 minutes.
And if you aren't sure where to start, just ask our support team and we'll point you in the right direction.
Start making real progress with the very first program you choose
Our most successful students follow the simple steps outlined in the training programs.

How do you eat an elephant? One bite at a time. How do you transform the trajectory of your church? Piece-by-piece.
By following the application steps, exercises, guides, and done-for-you resources, you'll have noticeable growth before you know it.
The next time your church starts getting stuck, you'll know where the answer is waiting.
This training and community is always here for you. Waiting in your back pocket.
When a curveball is coming your way, you'll be ready to smash it out of the park.
There's a certain comfort in knowing that…
When you're in the middle of something you've never faced before, you can get wise advice in a matter of minutes…
When it's been ages since you've revamped something at your church, and you can't remember where to start, the answer is there with the click of a button…
And when a decision is sucking you under and you need to get inspired fast…
You can go back, re-watch a video, do an exercise, or send a DM, and you'll get clarity on what's holding you back.
What's the value of…
Another family attending your church? Another TEN families attending your church?
Taking a complete day off every single week to spend with friends and family? No distractions and no work.
A welcome experience that gets new guests coming back, week after week?
A renewed vision that gets the next generations attending and engaging with your mission?
Another baptism because your sermon inspired real change in someone's life?
Leadership and strategy development without blowing your budget
Get instant access to it all as a member of
The Art of Leadership Academy.
INDIVIDUAL PLAN
$447 / year (USD)
9 On-Demand Courses
Live Coaching Calls (Monthly)
Online Community of Senior-Level Church Leaders
Staff and Volunteer Development (Monthly)
Membership renews yearly in USD. You can cancel your membership at any time, but we think you'll love sticking around.
TEAM PLAN
$347 / team member / year (USD)
9 On-Demand Courses
Live Coaching Calls (Monthly)
Online Community of Senior-Level Church Leaders
Staff and Volunteer Development (Monthly)
Membership renews yearly in USD. You can cancel your membership at any time, but we think you'll love sticking around.