Start Preaching More Engaging, Memorable, and Relevant Sermons—This Sunday.
Grow your church and reach more people with a proven step-by-step method to transform your preaching.
What if you could…
Preach sermons that reach the people in your community and transform members of your church
Write messages that people remember for months (or even years)
Save hours each week with a better writing and sermon preparation method
And deepen your own connection with the text
… Even if you've been preaching for years
You've prepared your sermon. You're ready for Sunday.
…or are you?
Is it faithful to the text?
Have you used that illustration before?
Will it be helpful for members and people exploring their faith?
Here's the problem: You always find out afterward.
Sometimes you've worked on a sermon for days, even weeks, crafting it just right. And it just doesn't seem to land like you expected it to.
Other times, you step on stage worried about how it'll go, and people love it.
The truth is, sermon prep always gets interrupted by the rest of your life as a Pastor.
If you're honest with yourself, the time you set aside to write your sermons and prepare for preaching just doesn't get the focus it deserves.
You know the drill…
Every week you have time set aside for your writing. Prep time comes around, and the next thing you know:
A staff member needs your attention
… then your inbox blows up with 39 emails
… you realize you forgot to do something else that needs to be finished
And by the time you sit back down to write, it's 4:00pm and you're still staring at a blank page.
When you reflect on the bigger picture, year after year, are you just going through the motions? Doesn't your preaching deserve more than that?
You need a planning, writing, and preaching process that works for
you
…
Not by piecing together what everyone seems to do. If you're like most of us, you've already tried the typical things.
Reading the commentaries
Looking up sermon illustrations
Watching other messages
Sometimes even watching (or cringing at) your own messages
…and they all help.
But the biggest challenge is putting it all together in a way that aligns your call, your unique gifting, and your busy schedule.
Reach more people and grow your church by preaching better sermons
A step-by-step plan to take your preaching to the next level.
This training leads you by the hand through every aspect of creating, writing, and delivering sermons that connect—from preparation to feedback.

The only preaching and communication program proven by 3,000+ pastors over 5+ years. No matter the denomination. No matter the church size.
"I'm stressed when planning my sermons because of everything else going on… sometimes my sermons don't get as much time as they deserve."
Your sermon is polished up and you're ready to preach days (or weeks) in advance.
"Am I preaching too long? Or too short? I never know…"
You'll know exactly how to engage and captivate your congregation—regardless of if you're over (or under) time.
"How do I make sure I'm pulling meaning from the text, not imposing meaning on it?"
You'll discover fresh ways to find power in the text.
"People don't seem to get the key points of my sermons… it's like they never even heard what I said."
You'll know how to write key points that people can quote back to you for years to come.
"I have clear thoughts and ideas, but I can't translate them into a sermon outline or communicate them effectively."
You'll have a strategy for turning your thoughts into clear messages that people can follow.
"Receiving feedback is painful… it hurts when people criticize me."
You'll know exactly what to look for and who to ask to get the kind of feedback that makes you better.
"My writing feels like it's getting repetitive and stale. I don't want to lose my edge."
You'll find new ways to gather ideas, express your thoughts, and spark your creativity.
"I see other pastors getting losing passion over the years."
You'll know how to stay fresh and relevant in the long run.
"I devoured the information and have already started applying it to my sermons.
I've already been hearing of how God has used the first two sermons to encourage the people in our church in their Christ-given mission to reach the world around them. That goes for ALL of the generations represented in our church.
From storytelling, to a killer bottom line, to progressively 'ditching' my notes, my sermons are less rough around the edges and I'm feeling much more confident that my message is connecting."

Ben P
Explore Everything You Get Instant Access To.
Slide 1
Preach More Engaging, Relevant and Memorable Sermons. Every Single Week.
Learn how to write and preach more engaging, relevant, and memorable sermons that keep unchurched people coming back and inspire life transformation in members. From preparation to delivery, you'll get a step-by-step method that aligns with your unique call, gifting, and busy schedule.
Week after week, you'll step up on Sunday morning confident that you're delivering a message that connects with both people exploring their faith and devout members.
10 Comprehensive Modules With Videos, Downloads, and a Course Application Workbook.

Module 1: What is Preaching in Today's Culture?
Module 2: Preaching to the Unchurched
Module 3: The How of Preaching
Module 4: Cultivate Growth and Evangelize Through Preaching
Module 5: Finding Power in the Text
Module 6: Creating a Killer Bottom Line
Module 7: Becoming the Best Preacher You Can Be
Module 8: How to Deliver a Talk Without Using Notes
Module 9: Keep Your Heart and Head Fresh Over the Long Run
Module 10: The Spiritual Dimension of Preaching

Bonuses:

Q&A with Carey and Mark
Carey's "Game-Film"
Preaching Cheat Sheet
Bottom Line Cheat Sheet
50 Killer Bottom Lines
How to Get Direct Sermon Feedback
5 Steps to Ditch Your Notes
PREACH MORE ENGAGING, RELEVANT, AND MEMORABLE SERMONS | MASTER A BETTER WRITING PROCESS
MOBILIZE PEOPLE TO ACT WITH FAITH AND COURAGE | DEEPEN YOUR CONNECTION WITH THE TEXT
Your Instructors: Carey Nieuwhof and Mark Clark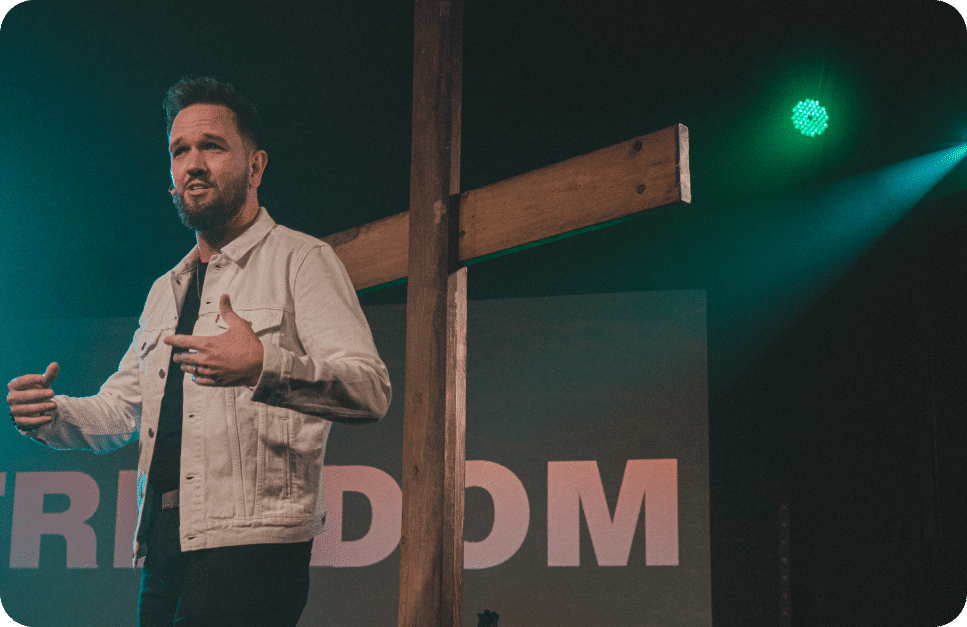 Slide 1
Practical Guides for Your Next Sermon
The Preaching Cheat Sheet: 10-step quick-reference guide you can use for preaching clear and effective sermons.
The Bottom Line Cheat Sheet: Craft a killer bottom line for every single message.
50 Killer Bottom Line Examples: Get 50-killer bottom line examples to inspire your own.
Leave Your Notes Behind Cheat Sheet: Leave your notes behind in 5 easy steps.
The Two Pitfalls of Modern Preaching: How to avoid falling into the two pitfalls of modern preaching.
6 Questions for Direct Sermon Feedback: 6 questions to ask to get meaningful feedback on your preaching.
The Guilt-Free Guide To Getting Out of a Never-Ending Lobby Conversation: You know… the conversation that goes on and on? Now you can end it nicely and without feeling guilty.
Your Instructors: Carey Nieuwhof and Mark Clark
"After working through The Art of Preaching, I was compelled to preach noteless for the first time ever and it went incredibly well. My bottom line was clear and thoughtful.
I even had multiple people come up to tell me how engaging and dynamic my message was. I can't wait to keep getting better."

Chris H
GET INSTANT ACCESS
About Carey & Mark
Carey Nieuwhof is a best-selling author, podcaster, and founding pastor of Connexus Church. He is a highly sought-after speaker and thought leader, appearing at major US conferences and events such as Orange, Exponential, SXSW, and Lifeway's Pipeline Leadership Conference.

Mark Clark is a Lead Pastor at Bayside Church in Sacramento, CA. He was also the founding pastor of Village Church, one of the fastest-growing, multi-site churches in North America. His sermons are downloaded hundreds of thousands of times per year in over 120 different countries.
Don't worry! You can take it one step at a time…
We get it. You're busy and this course is comprehensive.
But it's designed to be taken step-by-step and most modules only take 20 minutes to complete—that includes the video and your first steps to apply it.
Here's how busy pastors successfully implement the program.
The course is designed so you can take it one step at a time—starting with the foundational principles you can build on each and every week.
Start Preaching More Engaging, Memorable, and Relevant Sermons. Join Today.
The Art of Preaching
Course
$447 / one-time payment (USD)
The Art of Preaching Course + Bonus Content
The Art of Leadership Academy
Membership
$447/year
The Art of Preaching + Bonus Content
8 Additional Church Leadership Courses
Live Coaching Calls (Monthly)
Online Community of Senior-Level Church Leaders
Staff and Volunteer Development (Monthly)
Membership renews yearly in USD. You can cancel your membership at any time, but we think you'll love sticking around.
Questions that smart leaders like you asked before their breakthrough.
I need approval to make this purchase. Do you have anything that can help with that?
What does my commitment look like? And how many hours will this take?
Many of the training programs take 3-6 hours to complete. You can choose to take the training at your own pace, with (or without) additional time to dive deeper into the material with your team.
In addition, monthly Live Coaching Calls are 60 minutes in length and packed with value. It's the condensed teachings you need to hear, without any fluff. If you can't make it live, a recording is uploaded following the live call.
Bottom line: This training works if you do the work. 2-3 hours per month is plenty of time to make meaningful change, but we think you'll love it enough to invest more time than that.
What if I don't have a big budget for hiring staff?
You don't need a big budget to have a high-impact ministry. You'll get access to extensive resources that work both individually and as a team. Plus, access to resources that help you develop better leaders—both staff and volunteers.
How can I manage more, if I can hardly keep up with where we're at now?
I've been there. If you aren't familiar with my story, I burned out a decade into my ministry—and I burnout out hard.
Thankfully there was a path to recovery. Along the way I discovered that the #1 barrier to church growth isn't a changing culture or declining attendance. It's leadership.

Healthy leaders create healthy teams. And that's what fuels a growing ministry. The training programs At Your Best, The Art of Church Growth, and The Art of Team Leadership will all help you break through this barrier without burning out.
Does this apply to my situation? What if I don't have any paid staff?
If you're leading a church of 50-5,000, these training programs are for you.
It's the exact proven and repeatable strategies, insights, and lessons that thousands of church leaders have used—including my own ministry (from 25-3,500+).
How do I pay?
Click one of the buttons on this page to proceed to checkout. Once you're there, you can enter the required information and pay with credit card.
Is there an option to pay monthly?
Yes, if you'd prefer to pay for membership to The Art of Leadership Academy on a monthly basis it is $54/month for membership, or $97/month for team membership. You can sign up on a monthly plan by clicking the button below.
What is the refund policy?
It means a lot to me that this material makes a difference in your ministry and in your leadership. With all my resources, I offer a no-questions-asked 30-day guarantee.
Just email us at support@careynieuwhof.com and we'll be happy to help.
Lead with the answers and clarity that fuel your
church for growth. Starting TODAY.
Church leaders have never been busier or had more challenges to deal with. It's left many feeling isolated, burnout, and discouraged.
The Art of Leadership Academy exists to help you lead with clarity and confidence so you can grow the impact your ministry has.
Busy Pastors are Getting Answers to Their Toughest Leadership and Church Growth Questions through Our Practical Resources. You can too.
Write sermons that people remember and quote back to you years after you've preached them
Unleash the potential of a staff and volunteer core that's passionate about the mission you've set out on
Captivate the unchurched people in your community and create an endless stream of new guests attending your church
Grow your church without burning out in the process
Secure an abundance of leaders that fuel your ministry for years to come
Inspire members to give generously… without feeling awkward about it
Become the catalyst your team and congregation need to leave a lasting impact on your community

…even if you don't have the multi-million dollar budget or endless resources of a megachurch.
"There ARE other people out there asking the same questions and going through the same things I am. This makes me feel normal.
The thing I like the most is the clarity it brings to the complex problems we are all facing as pastors.
I love that I don't have to come up with my own content to invest into my team. I can just use what's provided here and in the monthly team training content.

No where else will you find such quality content for pastors and church leaders for such an affordable price. It's a must have for any pastor or church leader."

Jeremy Cole
Leadership can be lonely. Join a community of 1,500+ senior-level church leaders who support you and your church.
When you have questions, when you're looking for guidance, or even if you just need some encouragement, we're here for you!
I'M READY TO JOIN
Don't Just Take My Word For It…
What leaders are saying about The Art of Leadership Academy
"Absolutely life-giving, encouraging, and honestly kept me from quitting on my hardest days"
Archie Jackson, Pastor/ Entrepreneur/ Artist
"I have received so much wisdom, encouragement, and thought-provoking input from an amazing network of people I otherwise would never have met. The Academy has truly been a gift."
Sarah Starrenburg, Executive Director of Global Collaboration, United Bible Societies
"What I didn't expect was the genuine friendships I'd make with like-minded leaders. I am feeling more energized and relationally connected than I ever have before."
Kenny Hackbarth, Campus Pastor, The Chapel McHenry
"Practical and helpful! A transformational resource that gives great insights into so many leadership areas. I have been impressed by the caliber of thought leaders, the peer community, and the information shared by Carey and others!"
John Brimm, Entrepreneur/Strategist
Start Preaching More Engaging, Memorable, and Relevant Sermons. Join Today.
The Art of Preaching
Course
$447 / one-time payment (USD)
The Art of Preaching Course + Bonus Content
The Art of Leadership Academy
Membership
$447/year
The Art of Preaching + Bonus Content
8 Additional Church Leadership Courses
Live Coaching Calls (Monthly)
Online Community of Senior-Level Church Leaders
Staff and Volunteer Development (Monthly)
Membership renews yearly in USD. You can cancel your membership at any time, but we think you'll love sticking around.