CNLP 394: Hannah Brencher on the Future of Digital and Physical Church with Millennials, Being an Online Influencer and Giving A TED Talk at Age 24
Hannah Brencher's first public speaking event was a TED Talk in NYC when she was 24.
Fast forward a few years, and Hannah reflects on what she's learned as a communicator, Millennials and their addiction to platform, and the future of what her generation wants in digital and physical interaction.
Welcome to Episode 394 of the podcast. Listen and access the show notes below or search for the Carey Nieuwhof Leadership Podcast on Apple Podcasts or wherever you get your podcasts and listen for free.
Plus, in this episode's What I'm Thinking About segment, Carey talks about how to deliver a talk without using notes.
Guest Links
Instagram | Facebook | Twitter | Website
Episode Links
GlooConnect
So, if you're like most pastors, your outreach strategy looks NOTHING like it did a year ago. You may be investing in marketing and outreach like Google ads, direct mail, door hangers, or maybe even some money towards Facebook ads.
GlooConnect was created just for this need – it's the affordable no-staff solution for your church.
Gloo runs professional, felt-needs based ads on Facebook, Instagram, and other digital channels. They pool funds from donors and churches to run cooperative campaigns in your city, offsetting your advertising costs.
In December alone, over 100 ads ran promoting in-person and online services in the Detroit-Fort Worth area, delivering 2.5 million+ impressions with over 100 websites showing ads for Detroit-Forth Worth churches.
You can now get on GlooConnect FREE for the first year – usually a $1,700 value. GlooConnect is rolling out city by city.
Head over to GlooConnect.church/carey where you can learn more. As a bonus, when you sign up for GlooConnect, you'll get FREE access to Click to Connect – my new, 4 part video course for church leaders – a $250 value.
Dwell App
Dwell is an audio Bible app with a simple mission: To help you get in the Word and stay in the Word! They have loads of inspiring voices, Bible translations, and original background music.
Some of Dwell App's features include:
Listening Plans — Start a daily habit of engaging with God through one of Dwell's many Bible listening plans
Playlists — Dwell has tons of Scripture playlists, like ones based on mood
Dwell Mode — Use Dwell mode to meditate, memorize and pray while listening to Scripture
And, brand new, a sleep timer — You and your family can fall asleep to your favorite books and stories of the Bible without losing your spot or draining your battery!
Get Dwell today by going to dwellapp.io/carey and get 20% off an annual or lifetime subscription.
CONVERSATION LINKS
Fighting Forward by Hannah Brencher
TED@New York | Hannah Brencher: Love letters to strangers
The Dumbest Generation by Mark Bauerlein
Digital Minimalism by Cal Newport
A 5 Step Method for Delivering a Talk Without Using Notes by Carey Nieuwhof
*As an Amazon Associate, I earn from qualifying purchases.
INSIGHTS FROM HANNAH
1. When starting a talk, try leading with a story, not an introduction
There are hundreds of ways to start a talk when public speaking. Most of them start with you giving a brief bio and telling people why you're a credible voice to be heard.
When speaking at TED, Hannah was given feedback that rather than starting with an introduction, she should jump straight into a story. This worked really well because people understand and crave good stories.
2. Your digital presence should enable your in-person dreams, not the other way around
So many people build their entire lives around getting attention and being the person everyone wants to be online. Hannah has learned that no amount of online followers is enough to leave you fulfilled. She recommends that you prioritize living an analog life you love, and if there's a way for you to serve people online out of that, then do it.
3. In a culture obsessed with perfection, focus on consistency
Everyone is obsessed with perfection. They want the perfect online presence, the perfect job and the perfect life, but anything near perfect doesn't come easily. Hannah encourages the next generation (of which she's a part) to focus on consistency rather than perfection. Because showing up consistently is the fastest way to gain near-perfect results.
Looking for a key quote? More of a reader?
Read or download a free PDF transcript of this episode here.
Select episodes of this podcast are now on YouTube. Our YouTube Channel gives you a chance to watch some episodes, not just listen.
Preach Better Sermons That Engage Audiences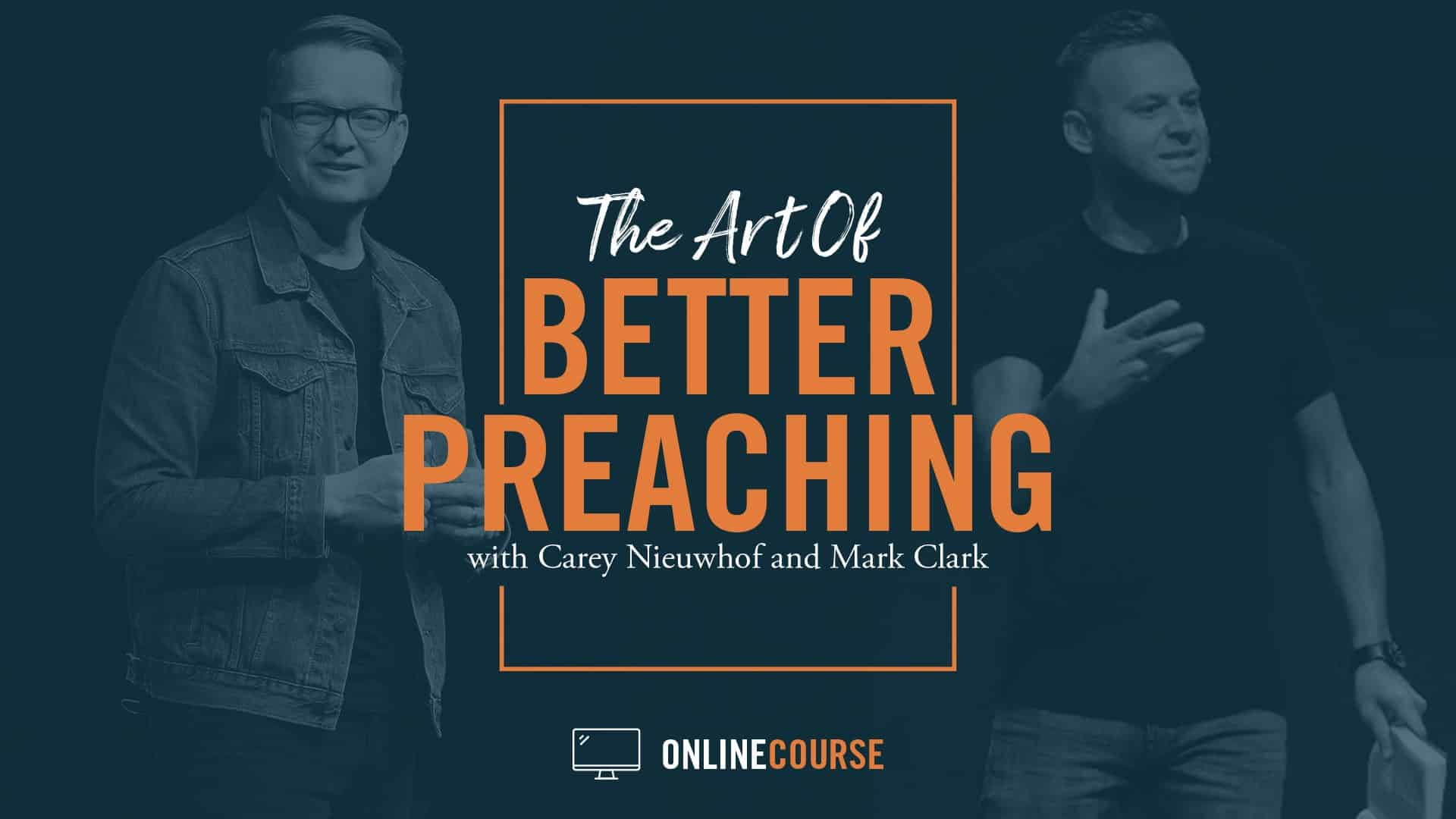 Ready to start preaching better sermons and reach the unchurched without selling out? Then it's time to start using the right tips, lessons, and strategies to communicating better.
The Art of Better Preaching Course is a 12 session video training with a comprehensive, interactive workbook that will help you create, write, and deliver better sermons. The course contains the lessons Mark Clark (lead pastor of  Village Church, a growing mega-church in post-Christian Vancouver) and I have learned, taught, and used over decades of being professional communicators.
This is the complete course you need to start preaching better sermons, including:
7 preaching myths it's time to bust forever
The 5 keys to preaching sermons to unchurched people (that will keep them coming back)
How to discover the power in the text (and use it to drive your sermon)
The specific characteristics of sermons that reach people in today's world
Why you need to ditch your sermon notes (and how to do it far more easily than you think.)
How to keep your heart and mind fresh over the long run
And far more! Plus you get an interactive workbook and some bonus resources that will help you write amazing messages week after week.
In The Art of Better Preaching, Mark and I share everything we've learned about communicating in a way that will help your church grow without compromising biblical integrity. We cover detailed training on everything from interacting with the biblical text to delivering a talk without using notes, to writing killer bottom lines that people will remember for years.
Check it out today and gain instant access.
SUBSCRIBED YET?
Subscribe for free and never miss out on wisdom from world-class leaders like Brian Houston, Andy Stanley, Craig Groeschel, Nancy Duarte, Henry Cloud, Patrick Lencioni, Francis Chan, Ann Voskamp, Erwin McManus and many others.
Subscribe using your favorite podcast app via
Spread the Word. Leave a Rating and Review
Hopefully, this episode has helped you lead like never before. That's my goal. If you appreciated it, could you share the love?
The best way to do that is to rate the podcast on Apple Podcasts and leave us a brief review! You can do the same on Stitcher and on TuneIn as well.
Your ratings and reviews help us place the podcast in front of new leaders and listeners. Your feedback also lets me know how I can better serve you.
Thank you for being so awesome.
Next Episode: Seth Godin
Legendary marketing expert Seth Godin explains how he learned to think the way he thinks, shares top tips for communicators (and why peeves make bad pets), and why he continues to travel to Algonquin Park in Canada every year to teach kids how to paddle a canoe solo.
Subscribe for free now so you won't miss Episode 395.