CNLP 356: Dharius Daniels on Leading with Relational Intelligence, Leadership Learned the Hard Way, and the Keys to Great Communication
Dharius Daniels is one of the best communicators in America today.
In this interview, we talk about the key to excellent communication, learning leadership the hard way, and how to lead and live with greater relational intelligence.
Welcome to Episode 356 of the podcast. Listen and access the show notes below or search for the Carey Nieuwhof Leadership Podcast on Apple Podcasts or wherever you get your podcasts and listen for free.
Plus, in this episode's What I'm Thinking About segment, Carey talks about where he thinks the sermon is heading in what he calls Sermon 2.0.
Guest Links
Instagram | Facebook | Twitter | Website
Episode Links
Gloo
As we all know, COVID-19 disrupted how people relate with one another, and in many ways accelerated the Church's need to engage with people online. But as we all know, that complicates things. Many leaders have lost visibility into who's engaging with their church and how they can serve them.
Insights+, from our friends at Gloo, removes the confusion, to bridge the digital gap and restore connection between you and your people. You'll be able to see who's viewing your website, know if they're members or visitors, see where they are locally or nationwide, and then re-engage them with next steps. Gain clarity on your online audiences so you can take action and reach the right people with the right message, online or in-person.
Learn more about Insights+ at glooinsights.com/carey
ServeHQ
ServeHQ offers two online subscription software tools for churches—TrainedUp and HuddleUp. These tools are used to equip and engage your church no matter where they are. With the ability to send highly engaging mass video text messages and video emails, your church will always be in the loop and know what's going on. Their safe chat feature lets you stay in direct contact with your people without worrying about inappropriate private communications. It's like a smart private social platform for your church members and volunteers.
And, they just launched a brand new feature called Followups that is included with all accounts in both TrainedUp and HuddleUp. This feature can automate messages, training, and followup task assignment for every followup workflow in your church. Followups is a simple-to-use automated followup system that allows you to create a time-delayed sequence of actions or tasks. It allows you to send drip emails or text messages from HuddleUp, automatically enroll users in courses on a schedule in TrainedUp, or automatically assign followup tasks to staff and volunteers to complete manually.
Check out ServeHQ at servehq.church and get a free, no-obligation 14-day trial account
CONVERSATION LINKS
Relational Intelligence by Dharius Daniels
Conversational Intelligence by Judith E. Glaser
Text CAREY 33777 to join more than 70,000 subscribers to our leadership content
Sermon 2.0: The Future of Preaching and Reaching the Unchurched by Carey Nieuwhof
3 INSIGHTS FROM DHARIUS
1. "Doing it all" as a pastor actually does more harm than good
When first starting out in ministry, Dharius thought that, as a pastor, he was responsible to dream, build and design his church, even though he is only gifted at dreaming and designing. This led to emptiness, frustration, emotional unhealth for him and stagnation within his organization.
Eventually, he realized that leadership is customized, and that God has wired him differently than he has wired other leaders. When he realized this, he knew that he needed to find someone that could complement his gifts and excel at the things that he never would. After putting this person in place, and watching his organization succeed, Dharius realized that, "You don't go as far as your dream, you go as far as your team."
2. If you want to change lives as a communicator, wrap deep meaning in alliteration and rhyme
When it comes to communication, some of your audience members will need a bit more than just inspiration. Many preachers are great at being inspirational, and some churches can thrive off that. But in his darkest days of college, Dharius needed more than inspiration from the preacher he was listening to. He needed some logic to show him that he could survive the hard times he was going through, and he needed it to be packaged in a memorable way.
After realizing this, Dharius made it a habit to have real life-changing and deep content in every message that is packaged in a way that's easily remembered. Two of the most common ways to do this is through alliteration and rhyme. If he doesn't have both deep truth, and memorable phrasing, he knows that his message isn't ready yet.
3. The 4 levels of relationships
Although everyone is equally valuable in the eyes of God, everyone does not add equal value to you. Dharius sees 4 levels where you can classify all of your relationships:
Friends
A friend is family without the last name. When friendship is working properly, it can supplement what you didn't get in your biological family.
Associates
If you're going to get hurt or be disappointed by any relationship, it is most likely with associates. These relationships are usually built because your schedules or interests intersect. These relationships can be seasonal.
Assignments
Assignments could also be called mentees. They are people that you know you are investing in but not getting anything out of. It's important that you have these people in your life, but make sure not to have only these people around. Pastors are often in danger of this.
Advisors
Advisors are the people that build into you. They help you move forward when you can't see what your next steps should be. And although they may not be building your organization with you, they are absolutely critical to your success.
Quotes from Episode 356
Looking for a key quote? More of a reader?
Read or download a free PDF transcript of this episode here.
Select episodes of this podcast are now on YouTube. Our new YouTube Channel gives you a chance to watch some episodes, not just listen. We'll add select episodes to YouTube as time goes on.
HELP YOUR CHURCH GROW BY LEARNING TO COMMUNICATE BETTER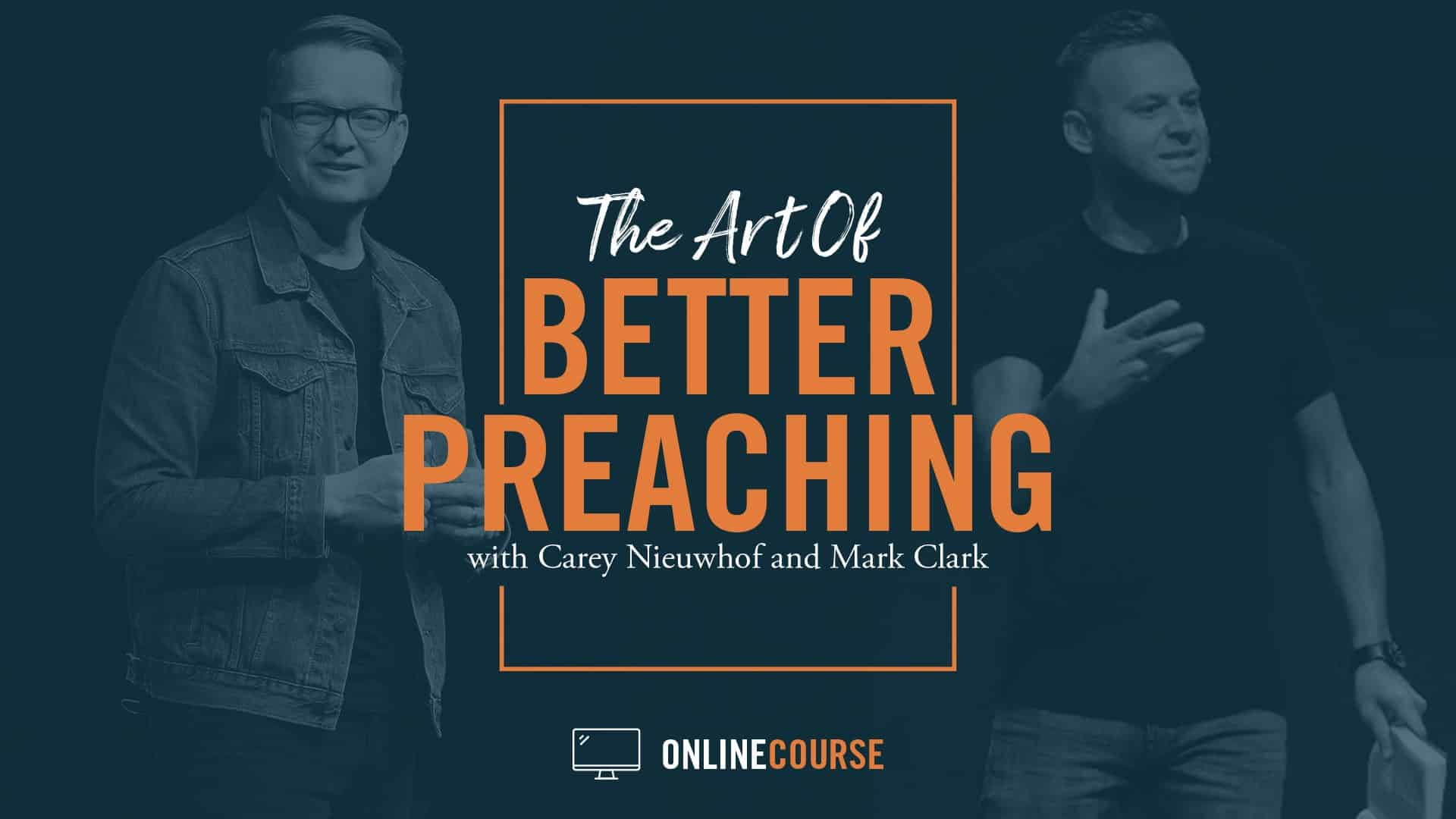 Ready to start preaching better sermons and reach the unchurched without selling out? Then it's time to start using the right tips, lessons, and strategies to communicating better.
The Art of Better Preaching Course is a 12 session video training with a comprehensive, interactive workbook that will help you create, write, and deliver better sermons. The course contains the lessons Mark Clark (lead pastor of  Village Church, a growing mega-church in post-Christian Vancouver) and I have learned, taught, and used over decades of being professional communicators.
This is the complete course you need to start preaching better sermons, including:
7 preaching myths it's time to bust forever
The 5 keys to preaching sermons to unchurched people (that will keep them coming back)
How to discover the power in the text (and use it to drive your sermon)
The specific characteristics of sermons that reach people in today's world
Why you need to ditch your sermon notes (and how to do it far more easily than you think.)
How to keep your heart and mind fresh over the long run
And far more! Plus you get an interactive workbook and some bonus resources that will help you write amazing messages week after week.
In The Art of Better Preaching, Mark and I share everything we've learned about communicating in a way that will help your church grow without compromising biblical integrity. We cover detailed training on everything from interacting with the biblical text to delivering a talk without using notes, to writing killer bottom lines that people will remember for years.
Check it out today and gain instant access.
Subscribed Yet? 
Subscribe for free and never miss out on wisdom from world-class leaders like Brian Houston, Andy Stanley, Craig Groeschel, Nancy Duarte, Henry Cloud, Patrick Lencioni, Francis Chan, Ann Voskamp, Erwin McManus and many others.
Subscribe using your favorite podcast app via
Spread the Word. Leave a Rating and Review
Hopefully, this episode has helped you lead like never before. That's my goal. If you appreciated it, could you share the love?
The best way to do that is to rate the podcast on Apple Podcasts and leave us a brief review! You can do the same on Stitcher and on TuneIn as well.
Your ratings and reviews help us place the podcast in front of new leaders and listeners. Your feedback also lets me know how I can better serve you.
Thank you for being so awesome.
Next Episode: JP Pokluda
After leading The Porch—the largest young adult ministry in America—JP Pokluda became a senior pastor of a more traditional church. He talks about how his preaching changed when church went online, why he hired a YouTuber to create messages, what he thinks the future of preaching will be like, and how to influence the next generation.
Subscribe for free now so you won't miss Episode 357.