CNLP 311: John S. Dickerson on the Bias Against Christianity, How Christianity Has Made a Surprisingly Positive Contribution to History, and Why Christianity is the Opposite of Anti-Intellectual
Award-winning journalist turned mega-church pastor, John S. Dickerson, is back on the podcast to talk about why skeptics might want to rethink their suspicion about Christianity.
John took his journalistic skills through centuries of history to discover why Christianity isn't anti-intellectual, why it's been far more progressive than repressive, and how a skeptical generation may want to rethink its bias against Christians.
Welcome to Episode 311 of the podcast. Listen and access the show notes below or search for the Carey Nieuwhof Leadership Podcast on Apple Podcasts or wherever you get your podcasts and listen for free.
Guest Links
Facebook | Twitter | Website | Jesus Skeptic
Episode Links
Financial Peace University
Financial Peace University has helped nearly 6 MILLION PEOPLE take control of their money, pay off debt and build wealth. And they're looking for leaders, like you, to help lead a class.
You don't have to be a financial expert or debt-free. You don't even have to take the class before leading it. In fact, 40% of group leaders lead a class while taking it for the first time. Plus, a dedicated advisor will walk with you through every step of leading a class.
AND they'll give you everything you need—for FREE.
Simply text GIVEHOPE to 33789.
BELAY
Are you looking for a way to scale your company without all the costs or the hassle of actually hiring new full-time employees? Or maybe you need a full-time employee, but you don't want the hassle of going through the job process of interviewing everybody. BELAY is your virtual solutions expert, and they have helped me find administrative assistants, a manager for this podcast, and other personnel over the years.
If you're looking to grow your team for as little as 10 hours a week right through to full-time, some of the top performers in business and in the church space have come from BELAY. They'll provide you with a free guide to help you determine how much staff you really need and whether you can delegate more.
Get your free guide and check out employee solutions at
BelaySolutions.com/Carey.
Conversation Links
Real Christianity by Dale Partridge
The Christian Virtuoso, The First Part by Robert Boyle
Evidence That Demands a Verdict by Josh McDowell and Sean McDowell
3 Insights from John
1. Most of the things that have made our world great came from Christians
In Jesus Skeptic, John outlines three of the greatest moral creations in history and how Christianity is responsible for them. The major leaders who abolished slavery and brought the Civil Rights Movement were all Christians, and their major motivation was that it's wrong to follow Jesus and have slaves.
Christianity is also responsible for the creation of modern universities. If you look at the top ten universities in the world, eight of them have blatantly Christian language in their charters, and the other two were founded by all Christians. The third thing that Christianity is responsible for is modern medicine. Nine of the top ten hospital systems in the world were founded by Christians. The effect that these three major movements have had on our modern lives is almost immeasurable.
2. Many modern Christians are more committed to their mindset, lifestyle, and prosperity than Jesus himself
So easily, we fall into this "who's right and who's wrong?" mindset. Many Christians think we always have to be right and we have to prove that we're right, and we have to prove that the other person is wrong. Even if we are right, that doesn't help. Nobody cares if we are right if they don't like us.
John points out that we can easily fall into thinking that Christianity is about making our life perfect here and now, and anyone who threatens that is against us, rather than really seeing what Jesus taught—that his kingdom is not of this world, and that we are here to radically lay down our lives to help others.
3. The people who actually follow Jesus will continue to change the world
When we look throughout history, the people who are devout followers of what Jesus actually said, and not what the Church says, have always been the radical world-changers that add value. These are the people and examples that caused John to have faith in Jesus and his teachings.
The biggest threat to Christianity is the people who claim to be Christians but are actually using their faith to propagate hate and judgment on the world. These were the Pharisees of Jesus' day, and they are still alive and thriving in our modern world.
Quotes from Episode 311
Christians can do a better job of showing that we're good for society. @JohnSDickerson Click To Tweet
It turns out that many of the great advances that have made the world a better place were initiated by followers of Jesus. @JohnSDickerson Click To Tweet
You can't just say you're a Christian and live a self-pleasing life and only use Christianity when it helps you. That's not actually following Jesus. @JohnSDickerson Click To Tweet
There are bad people who claim to be Christians in every generation, and sadly there always will be. @JohnSDickerson Click To Tweet
If you think of any movement that's one out of three people in the world, it's going to have a lot of wackos and weirdos in it. @JohnSDickerson Click To Tweet
The greatest argument for Christianity and against Christianity is Christians. - C.S. Lewis Click To Tweet
The scientific revolution is a tree that grew from the soil of a Christian world. @JohnSDickerson Click To Tweet
Where Christianity goes, women have better education, more equal pay, they're allowed to vote. @JohnSDickerson Click To Tweet
A true skeptic isn't someone who refuses to believe anything, it's someone who refuses to believe what's false. @JohnSDickerson Click To Tweet
Looking for a key quote? More of a reader?
Read or download a free PDF transcript of this episode here.
Select episodes of this podcast are now on YouTube. Our new YouTube Channel gives you a chance to watch some episodes, not just listen. We'll add select episodes to YouTube as time goes on.
Help Your Church Grow Without Compromising Biblical Integrity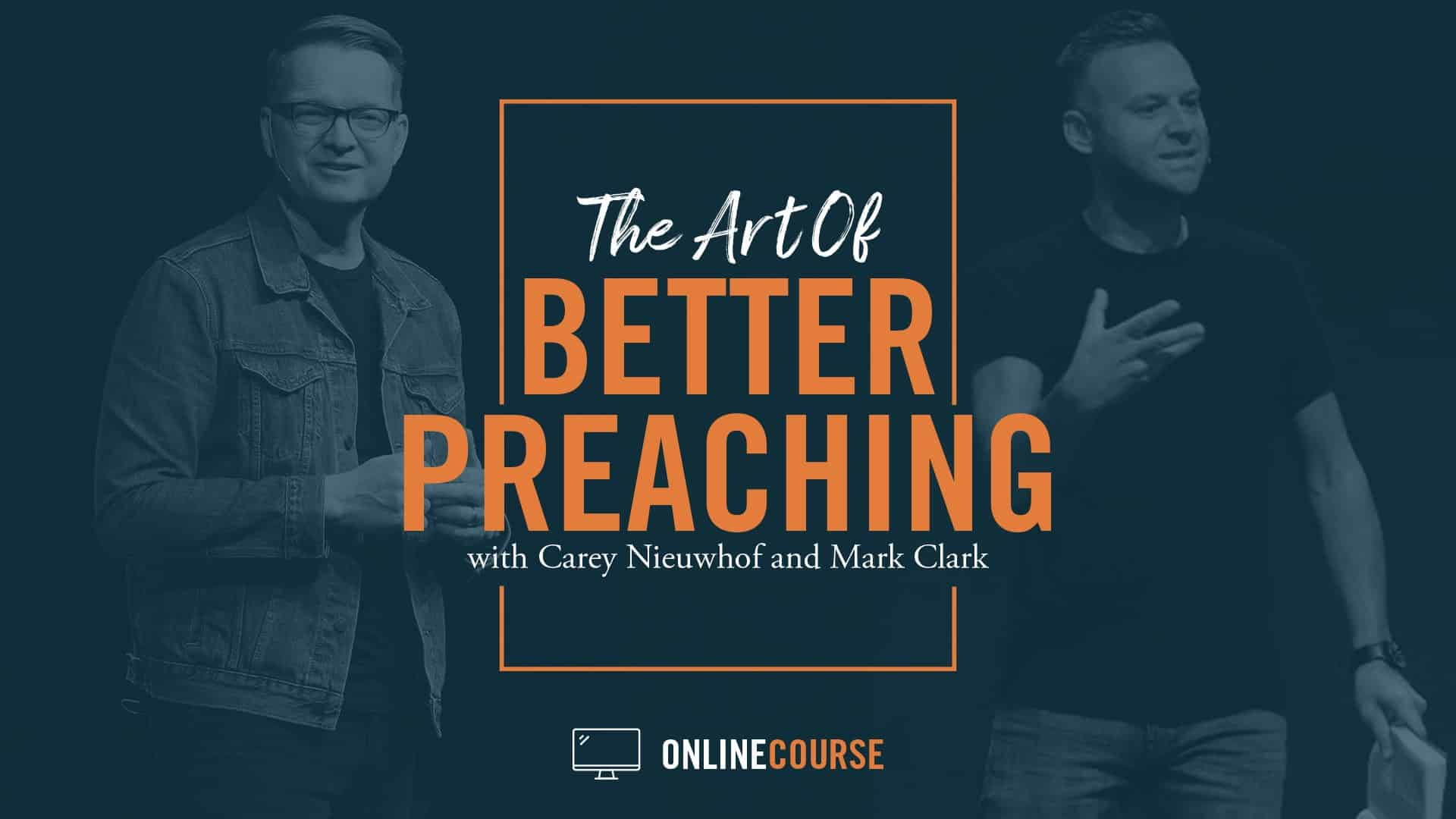 Ready to start preaching better sermons and reach the unchurched without selling out? Then it's time to start using the right tips, lessons, and strategies to communicating better.
The Art of Better Preaching Course is a 12 session video training with a comprehensive, interactive workbook that will help you create, write, and deliver better sermons. The course contains the lessons Mark Clark (lead pastor of  Village Church, a growing mega-church in post-Christian Vancouver) and I have learned, taught, and used over decades of being professional communicators.
This is the complete course you need to start preaching better sermons, including:
7 preaching myths it's time to bust forever
The 5 keys to preaching sermons to unchurched people (that will keep them coming back)
How to discover the power in the text (and use it to drive your sermon)
The specific characteristics of sermons that reach people in today's world
Why you need to ditch your sermon notes (and how to do it far more easily than you think.)
How to keep your heart and mind fresh over the long run
And far more! Plus you get an interactive workbook and some bonus resources that will help you write amazing messages week after week.
In The Art of Better Preaching, Mark and I share everything we've learned about communicating in a way that will help your church grow without compromising biblical integrity. We cover detailed training on everything from interacting with the biblical text to delivering a talk without using notes, to writing killer bottom lines that people will remember for years.
Subscribed Yet? 
Subscribe for free and never miss out on wisdom from world-class leaders like Brian Houston, Andy Stanley, Craig Groeschel, Nancy Duarte, Henry Cloud, Patrick Lencioni, Francis Chan, Ann Voskamp, Erwin McManus and many others.
Subscribe using your favorite podcast app via
Spread the Word. Leave a Rating and Review
Hopefully, this episode has helped you lead like never before. That's my goal. If you appreciated it, could you share the love?
The best way to do that is to rate the podcast on Apple Podcasts and leave us a brief review! You can do the same on Stitcher and on TuneIn as well.
Your ratings and reviews help us place the podcast in front of new leaders and listeners. Your feedback also lets me know how I can better serve you.
Thank you for being so awesome.
Next Episode: Jordan Raynor
Jordan Raynor is a serial entrepreneur who has bought and sold several fast-growing businesses by the time he turned 30. He's been a Google Fellow and spoken at SXSW, Harvard and TedX. He talks about what makes for a successful launch, the qualities and characteristics that make for great entrepreneurs, and why so much of the career advice people give young leaders is wrong.
Subscribe for free now and you won't miss Episode 312.