CNLP 134: Carl George and Warren Bird on How to Break the 200, 600 and 1000 Attendance Barriers
What does it take for churches to break through the 200, 400 and 600 attendance growth barriers?
Carl George and Warren Bird literally wrote the book on it, and share some of the surprising obstacles church leaders face and outline how to overcome them to reach more people.
Welcome to Episode 134 of the podcast.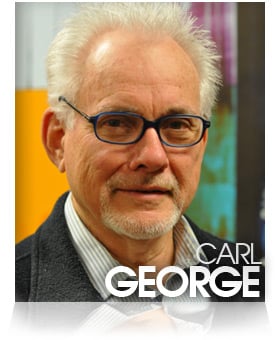 Guest Links: Carl George and Warren Bird
How to Break Growth Barriers: Revise Your Role, Release Your People, and Capture Overlooked Opportunities for Your Church by Carl George and Warren Bird
Dr. Warren Bird on Twitter
Warren's Website
Carl George's Website
Links Mentioned
ReThink Leadership Atlanta, Georgia; April 26 – 28, 2017
The Canadian Church Leaders Conference Barrie, ON; June 8th – 10th
One Size Doesn't Fit All: Bringing Out the Best in Any Size Church by Gary McIntosh
3 Insights from This Episode
1. Be a rancher, not a shepherd 
One of the biggest barriers for churches to break the 200 attendance mark is Pastoral care. When you first started the church, you were everything to every one… but that doesn't scale.
Pastors tend to always think of themselves as shepherds guiding the sheep. But Carl and Warren challenge you to think of it this way: be a rancher, not a shepherd. Shepherds guide the sheep, but ranchers guide the shepherds who guide the sheep. Pastors need to have vision for the sheep and to train, empower and inspire the shepherds to do their jobs well.
2. Embrace your people
When you're experiencing seasons of growth, you'll have members who resist the change. As George and Warren pointed out… most people perceive more growth to mean less care. When you come across these matriarchs and patriarchs of the church, don't resent them. Empathize with them, be their ally, lead them differently and with sensitivity.
For the people in your church who are excited about growth and change, create opportunities for them to feel like they are part of the heartbeat of the church. Managing the coffee bar might seem minor to you, but to the first-time volunteer… it's their sense of purpose in the church.
When you give people opportunities for service in a team setting, you also see leaders arise.
3. Look where you normally don't
For example, take the nursery. When was the last time you spent time in the nursery and preschool areas? It's probably been a long time, if ever. But think of it this way: Parents whose kids have great experiences in the nursery will be more likely to raise their kids in your church and be members for the next 20 years.
When Pastors think facility improvements they think first of the sanctuary. But what about the lobby? How easy (or not) is it to navigate? What about parking? All of these things matter.
If you find this topic interesting, listen to the episode where I spoke with a secret church shopper. 
Quotes from This Episode
Help With Reaching More People
If you appreciated this episode and want more, on September 19th, 2017, I launch a brand new online course called Breaking 200 Without Breaking You.
It's designed to help senior pastors and their boards and leadership team break through the barrier 85% of churches never move past: the 200 attendance barrier.
So many leaders who try to break it either get stuck at 150-250 in attendance or burned out in the process of trying.
It doesn't have to be that way.
Believe it or not, the reasons most churches never break 200 aren't spiritual reasons, they're practical reasons. Strategic reasons.
I've been through this journey personally.
As I mentioned in the interview, I began ministry with a dying church of 6 people. By God's grace, we saw it grow, and I led through the 200 barrier to eventually lead a church of over 1000. I took good notes, and in the course, I share practical strategies that worked not just for us, but which I've seen work for hundreds of other leaders too.
I believe these 8 doable strategies can help you too, and that's what this course is all about. The workbook will also become your action plan to help you determine your next steps in each critical area as a church.
Join the waitlist now to get an exclusive insider information and a free bonus and to be the first to know when the course releases.
The podcast releases every Tuesday morning.
Subscribe for free and never miss out on wisdom from world-class leaders like Brian Houston, Andy Stanley, Louie Giglio, Ravi Zacharias, Craig Groeschel, Sue Miller, Kara Powell, Chuck Swindoll, Greg McKeown, Jon Acuff and many others.
Subscribe via
Plus, I host a second podcast every month called the Canadian Church Leaders Podcast. If you're Canadian, or just interested in ministry in a post-Christian culture, you can subscribe for free as well at:
Appreciate This? Rate the Podcast.
Hopefully, this episode has helped you lead like never before. That's my goal. If you appreciated it, could you share the love?
The best way to do that is to rate the podcast on iTunes and leave us a brief review! You can do the same on Stitcher and on TuneIn Radio as well.
Your ratings and reviews help us place the podcast in front of new leaders and listeners. Your feedback also lets me know how I can better serve you.
Thank you for being so awesome.
Next Episode: Adam Webber
You've heard all the excuses. Churches in this region don't grow. Mainline denominations are dying. Adam Weber defied all the odds. He pastors one of the fastest growing churches in America and in one of the most unlikely places: South Dakota. And he did all this as a young United Methodist pastor.
Subscribe for free now and you won't miss Episode 135.