CNLP 285: Christy Wright on Overcoming the Fear of Becoming an Entrepreneur and Pro Tips on Starting and Pricing Your Business
Christy Wright became an entrepreneur at age 23 and now coaches business leaders full time in addition to podcasting and speaking on some of the biggest stages in the world.
Christy shares some remarkable insights on the fears most entrepreneurs face, overcoming them, how to get started, and how to price yourself and your product in the market. Plus, she talks about how to respond when people want things cheaper or simply for free, and how to say no, nicely.
Welcome to Episode 285 of the podcast. Listen and access the show notes below or search for the Carey Nieuwhof Leadership Podcast on Apple Podcasts or wherever you get your podcasts and listen for free.
Guest Links
Christy Wright | Facebook | Instagram | Twitter | Business Boutique
Episode Links
Don't miss out on the best pricing for The Art of Better Preaching. Enroll now in the course today!
Discover a benefits solution that meets the unique needs of your staff with Remodel Health. Visit remodelhealth.com/carey to learn more and download their Church buyer's guide.
Pro Media Fire has the media solution that's right for your church at promediafire.com/carey. Podcast listeners receive 10% off for life.
There's a big giveaway coming soon for our podcast listeners! Follow Carey on Facebook, Instagram, and Twitter for your chance to get in on the fun!
The Art of Simple – April Perry
3 Insights from Christy
1. When starting a business, start with the baby version of the idea
Most people, when getting into the business space, believe that they know exactly what the market wants. They know what they need to say, what they need to do, and what they need to get sales, but you don't. Business is a conversation with a marketplace. You have to learn what the market wants before you have a successful business.
To solve this problem, Christy recommends that you start with a baby version of your idea when you are starting a business. When you start with a small version, you can begin to learn what questions the market will have and how your idea sits with the audience you are trying to reach. This real-time feedback from the market will sharpen you for when you launch the full version of your idea.
2. The bait you fish with determines the fish you catch
Pricing your business is like fishing. You use a certain type of bait to catch the specific type of fish you want to catch. When you put out a cheap price, you wonder why you're getting cheapos. That's your bait. If you want to raise your quality of client, stop lowering your price at every request.
When you find that person (and they are out there) sales are effortless. You don't have to twist their arm. You don't have to talk them into it. The right customer is more than willing to pay for your service because they see the value and understand why the price is so high. Christy used getting a cheap massage as an example. She isn't comfortable paying for a $25 massage. She is more than comfortable paying for the $75 massage that is guaranteed to be high-quality.
3.  In business, your nos are just as important as your yeses
Most leaders are faced with more requests for their time, money, and resources than they are able to say yes to. The problem is that we often let our feelings determine our responses to those requests, we don't want to "hurt their feelings" or "make things awkward," so we say yes to the things that end up doing more harm than good to our organization.
Writing out a scripted, but still authentic "no" that you will tell people when they request your time is a discipline that will pay off over and over in your business and personal life. When you write out the no, practice it over and over until it feels like second nature. Then, next time someone makes a request you should say no to, you are ready to respond well!
Quotes from Episode 285
Fear is not a sign you're doing something bad, it's a sign you're doing something bold. @ChristyBWright Click To Tweet
In business, the bait you use determines the fish you catch. @ChristyBWright Click To Tweet
Nothing will silence your fear of doing the thing, like doing the thing. @ChristyBWright Click To Tweet
An honest no is always better than a dishonest yes. @ChristyBWright Click To Tweet
Looking for a key quote? More of a reader?
Read or download a free PDF transcript of this episode here.
Select episodes of this podcast are now on YouTube. Our new YouTube Channel gives you a chance to watch some episodes, not just listen. We'll add select episodes to YouTube as time goes on.
Help Your Church Grow Without Compromising Biblical Integrity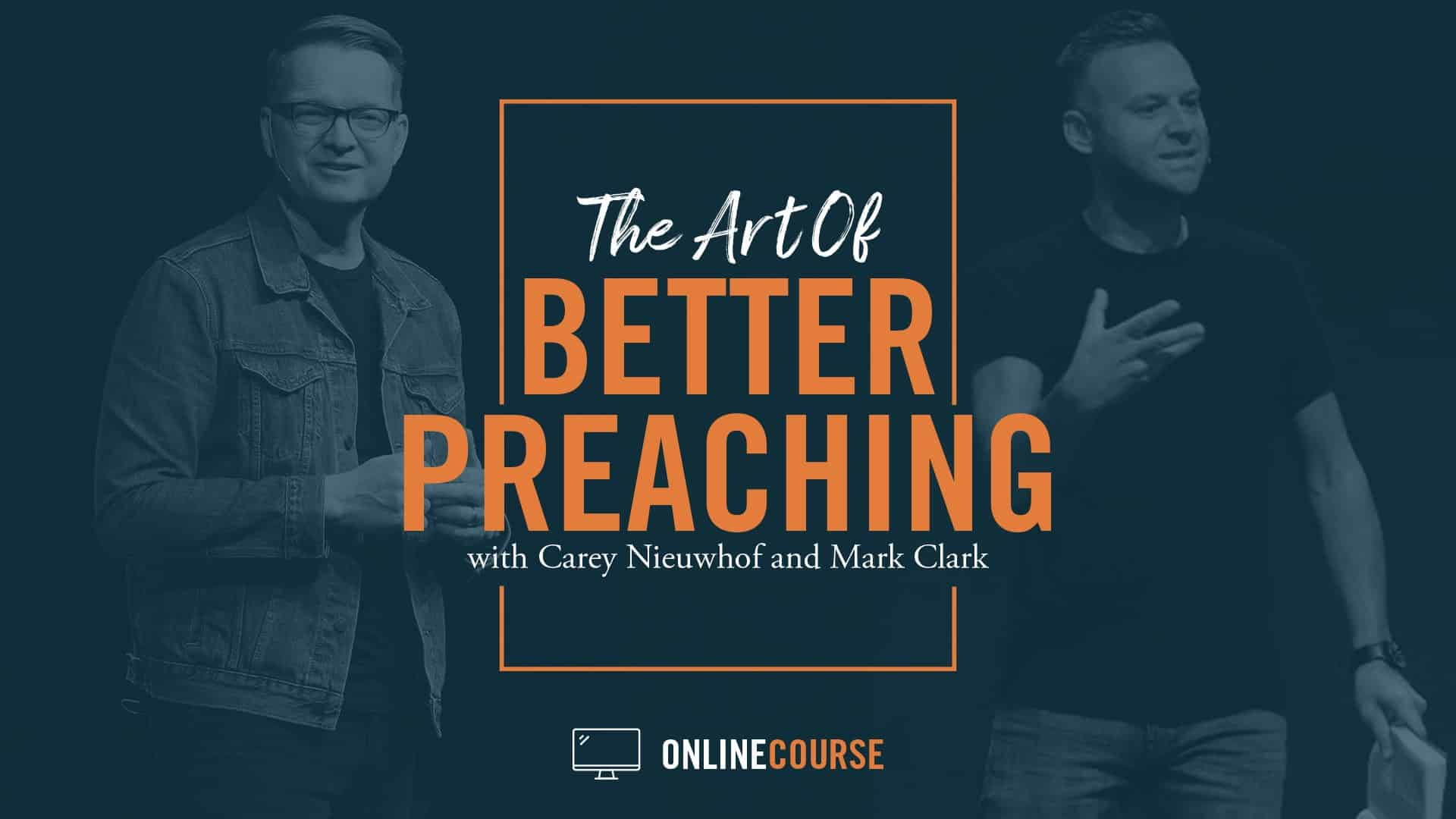 Ready to start preaching better sermons and reach the unchurched without selling out? Then it's time to start using the right tips, lessons, and strategies to communicating better.
The Art of Better Preaching Course is a 12 session video training with a comprehensive, interactive workbook that will help you create, write, and deliver better sermons. The course contains the lessons Mark Clark (lead pastor of  Village Church, a growing mega-church in post-Christian Vancouver) and I have learned, taught, and used over decades of being professional communicators.
This is the complete course you need to start preaching better sermons, including:
7 preaching myths it's time to bust forever
The 5 keys to preaching sermons to unchurched people (that will keep them coming back)
How to discover the power in the text (and use it to drive your sermon)
The specific characteristics of sermons that reach people in today's world
Why you need to ditch your sermon notes (and how to do it far more easily than you think.)
How to keep your heart and mind fresh over the long run
And far more! Plus you get an interactive workbook and some bonus resources that will help you write amazing messages week after week.
In the Art of Better Preaching, Mark and I share everything we've learned about communicating in a way that will help your church grow without compromising biblical integrity. We cover detailed training on everything from interacting with the biblical text to delivering a talk without using notes, to writing killer bottom lines that people will remember for years.
Subscribed Yet? 
Subscribe for free and never miss out on wisdom from world-class leaders like Brian Houston, Andy Stanley, Craig Groeschel, Nancy Duarte, Henry Cloud, Patrick Lencioni, Francis Chan, Ann Voskamp, Erwin McManus and many others.
Subscribe using your favorite podcast app via
Spread the Word. Leave a Rating and Review
Hopefully, this episode has helped you lead like never before. That's my goal. If you appreciated it, could you share the love?
The best way to do that is to rate the podcast on Apple Podcasts and leave us a brief review! You can do the same on Stitcher and on TuneIn as well.
Your ratings and reviews help us place the podcast in front of new leaders and listeners. Your feedback also lets me know how I can better serve you.
Thank you for being so awesome.
Next Episode: 

Dr. John Townsend
John Townsend is one of today's leading business consultants, leadership coaches, psychologists and best selling author of 35 books. John talks why high performing leaders experience more negative self-talk than others, why it eventually becomes counter-productive, and how to rewire your brain to silence your inner critic. Plus, John shares why most leaders have the wrong kind of relationships in their lives, and how to find the best ones. And as a bonus, John explains how to clearly say no and establish boundaries in a way that doesn't hurt people.
Subscribe for free now and you won't miss Episode 286.